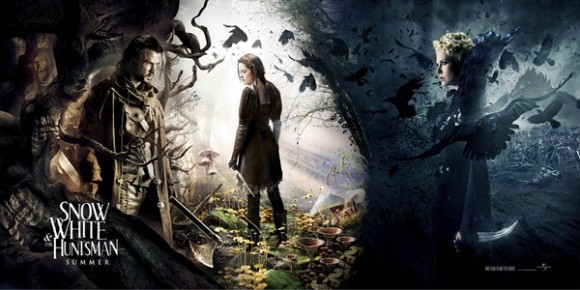 I must say after watching the trailer I am quite looking forward to this Snow White film. I wasn't sure to begin with, however the trailer is actually kind of cool, and Charlize Theron eats up the screen in a role custom made for her! Chris Hemsworth appears to be doing his Thor thing all over again (which aint a complaint I can tell you), and Kristen Stewart, miserable as she is, definitely has the looks (but better looking than Theron? Nah, I don't think so!)
Rupert Sanders directs from a script penned by Hossein Amini and there is an even better supporting cast which includes Ray Winstone, Toby Jones, Ian McShane, Nick Forst, Bob Hoskings, Sam Claflin, Lilly Cole, Eddie Marsan and Vincent Regan, a mighty fine cast indeed! Let's hope the film lives up to its promise. The trailer, synopsis and new character posters follow and you can expect to see the film in UK cinemas 1st June 2012.
In the epic action-adventure Snow White and the Huntsman, Kristen Stewart (Twilight) plays the only person in the land fairer than the evil queen (Oscar(r) winner Charlize Theron) out to destroy her. But what the wicked ruler never imagined is that the young woman threatening her reign has been training in the art of war with a huntsman (Chris Hemsworth, Thor) dispatched to kill her. Sam Claflin (Pirates of the Caribbean: On Stranger Tides) joins the cast as the prince long enchanted by Snow White's beauty and power.
By Matt Wavish
[youtube]https://www.youtube.com/watch?v=VY67V0wOlz8[/youtube]