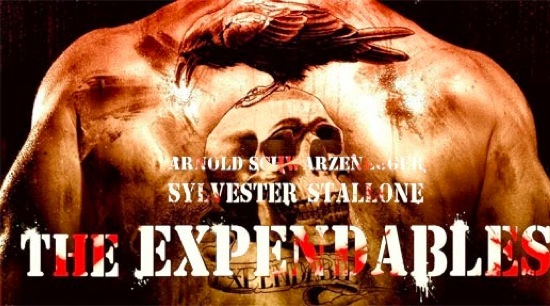 Ladies and gentlemen, we present to you the rather ferocious poster for the cleverly titled 'The Expendables 2', and I am guessing that now the poster have finally be made public, maybe we can expect a teaser trailer some time soon? Granted Simon West's sequel is not due to arrive in UK cinemas until 17th August 2012, but damn excitement is brewing very quickly for this bigger and badder sequel.
The majority of the films main stars are in the poster, with Stallone leading the way pulling the same face he has for decades, Arnie looks like a kid at Christmas holding a massive gun again and it is damn good to seem him back properly this time, Willis is doing his best John McClane impression, and Jason Statham, Dolph Lundgren, Randy Couture and Nan Yu look mighty angry. Chuck Norris looks a little lost, and has barely changed in thirty years, and Van Damme stands proud almost right at the top wearing some furry coat around his shoulders. I love it, absolutely love it and if the poster is any indication to how the film will turn out, then its gonna be awesome.
Liam Hemsworth and Scott Adkins are missing though, and it is still unclear as to whether Jet Li and Terry Crews are returning. The rumours of Nic Cage, John Travolta, Michael Biehn and Peter Weller joining the cast appear to not be happening.
Synopsis (contains spoilers)
"The Expendables are back and this time it's personal! After Tool (Mickey Rourke), the heart and soul of the Expendables, is brutally murdered on a mission, his comrades swear to avenge him. They're not the only ones who want blood. Tool's beautiful young and wild daughter Fiona embarks on her own revenge mission, complicating matters when she is captured and ransomed by a ruthless dictator plotting to destroy a resistance movement. Now Barney and the Expendables must risk everything to save her and humanity."
By Matt Wavish