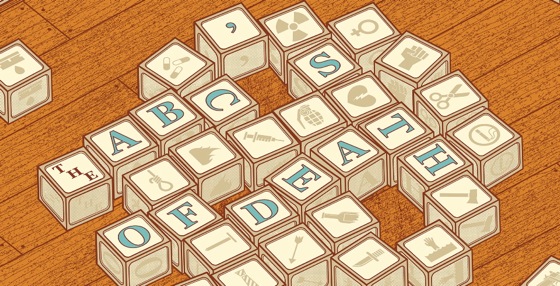 The ABC's of Death is a massive horror project, bringing together 25 of the worlds newest and best talents in horror directing. Each director gets to make a short film based on one letter of the alphabet, and the 26th place (given to the letter T) was created as a competition for lesser known talents to make a short film, and the winning short film would be included in the final product.
Here at HCF  we have been championing David Guglielmo to win, and thanks to all those of you who voted. Sadly David did not win, but a huge congratulations goes to the UK's Lee Hardcastle whose short film 'T is for Toilet' beat hundreds of other entries. Hardcastle's short can be seen at the bottom of this post and it is fantastic I must say, absolutely brilliant and a well deserved winner!
The ABC's of Death is due for release sometime in 2012, and here is a list of all the directors who will be submitting a short film, along with Hardcastle's winning short.
Kaare Andrews (Altitude), USA
Angela Bettis (Roman), USA
Ernesto Diaz Espinoza (Mirageman; Mandrill), Chile
Jason Eisener (Hobo With A Shotgun), Canada
Bruno Forzani & Héléne Cattet (Amer), Belgium
Adrian Garcia Bogliano (Cold Sweat), Mexico
Xavier Gens (Frontiers; Hitman), France
Jorge Michel Grau (We Are What We Are), Mexico
Noburo Iguchi (RoboGeisha), Japan
Thomas Malling (Norwegian Ninja), Norway
Anders Morgenthaler (Princess), Denmark
Yoshihrio Nishimura (Tokyo Gore Police), Japan
Banjong Pisathanakun (Shutter), Thailand
Simon Rumley (Red, White & Blue), UK
Marcel Sarmiento (Deadgirl), USA
Jon Schnepp (Metalocalypse; The Venture Bros.), USA
Srdjan Spasojevic (A Serbian Film), Serbia
Timo Tjahjanto (Macabre), Indonesia
Andrew Traucki (The Reef), Australia
Nacho Vigalondo (TimeCrimes), Spain
Jake West (Doghouse), UK
Ti West (House of the Devil; The Innkeepers), USA
Ben Wheatley (Down Terrace; Kill List), UK
Adam Wingard (A Horrible Way to Die), USA
Yudai Yamaguchi (Yakuza Weapon), Japan
By Matt Wavish
[youtube]https://www.youtube.com/watch?v=UCmMebE0pIg[/youtube]