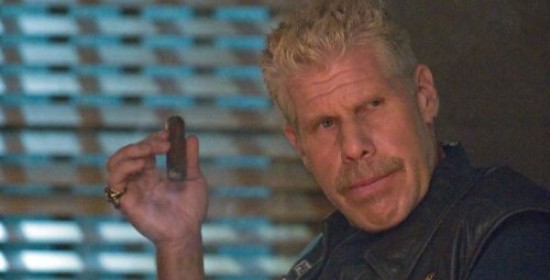 Ron Perlman has become something of a cult legend over the years, and no doubt his work as Hellboy with Guillermo del Toro has done nothing to harm that reputation. With fans crying out for a Hellboy 3 todays news should give a little comfort. In a recent interview with Wired, del Toro named people attached to his latest movie Pacific Rim and a surprise was in store for fans. Del Toro named actors we already knew were starring on the big budget monster film, but the director also dropped Ron Perlman's name into the mix, a name we were not aware was to be included in the film, until now! Here is what Del Toro said:
"We are working with actors that I absolutely adore," said Del Toro. "Idris Elba, Charlie Day, Charlie Hunnam, Ron Perlman. It's really, it's a very, very beautiful poem to giant monsters. Giant monsters versus giant robots. Twenty-five-story-high robots beating the crap out of 25-story-high monsters. We're trying to create a world in which the characters are real and how it would affect our world politically, how it would affect the landscape if creatures like this really came out of the sea, etc."
Yes!!! Ron Perlman, great freakin news thats all I can say, and the thought of this awesome film just got bigger and better. Here is what we know of the plot so far, and you can expect to see Pacific Rim arrive in cinemas early 2013:
Pacific Rim is all about massive robots battling giant monsters which have come from some underwater dimension on Earth. With the monsters being so huge, the only way for the humans to fight back is by using giant robots operated by human drivers. The monsters come from a dimensional hole in the Pacific Ocean and so only areas on the Pacific are affected by the beasts.
By Matt Wavish