The Green Hornet (2011)
Directed by: Michel Gondry
Written by: Evan Goldberg, George W. Trendle, Seth Rogen
Starring: Cameron Diaz, Christoph Waltz, Edward Furlong, Jay Chou, Seth Rogen, Tom Wilkinson

The Green Hornet (2011) is one of those flicks that I couldn't quite put my finger on why I enjoyed it so much. For one, there is little or no plot involved. The story ambles along at it's own pace and does enough with a few ingenious effects, ideas and cheap gags to keep the viewer interested. It's like the ultra bright kid that decides to complete his thesis two hours before it's due to be handed in and succeeds in handing in an inspired mess. But I'll take a mess with inspired moments over a Tron Legacy any day.

The story involves Britt Reid (Seth Rogan) taking over his father's (Tom Wilkinson) newapaper empire after his untimely and dubious death. After a drinking session with his late father's mechanic and coffee maker, Kato (John Chow) both parties discover that they have a common goal – to fight crime.
The rest of the movie's running time involves Britt (The Green Hornet) trying to outshine his physically and mentally superior sidekick, Kato. Strangely identity and self image seems to play a big part throughout the project. Britt wants to be seen as the hero but is overshadowed by Kato. Kato wants to be treated as an equal by his ally and constructs all sort of elaborate weapons to win his respect. Even the villain, Chudnofsky (an underused Christoph Waltz) frets over how other people perceive him and his ability to strike fear into the criminal world. Is there a deeper psychological message being hinted at here? Errrr…probably not.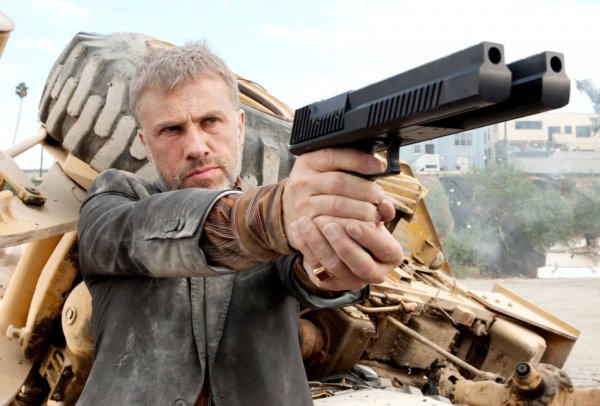 Although not all the jokes hit home, there are a few belly laughs. My particular favourites being a malfunctioning gift that Kato gives Brett and a slapstick lover's tiff between the couple.
The final third is a blast with enough action, noise and carnage to have the beer movie crowd satisfied. I had no choice but to watch this in 3D and I really wish they would give this tedious novelty and the cinemagoer's wallet a rest with a technology that is going nowhere fast.
Rating: