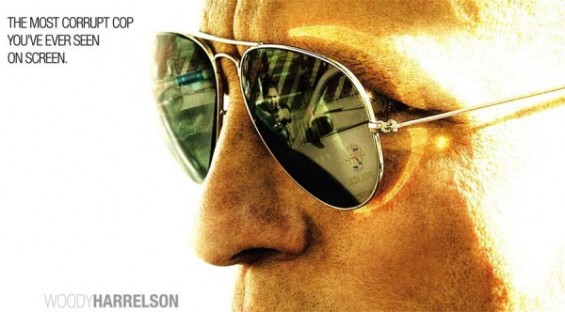 Woody Harrelson, you gotta love him but sadly the actor has been a bit quiet of late. After literally stealing the show in 2012 and almost stealing his scene in No Country For Old Men, not forgetting Zombieland, Harrelson is back and in the leading role of director Oren Moverman's violent cop thriller Rampart. The tag line on the poster teases "the most corrupt cop you've even seen on  screen" and this is a bold and brave statement considering the amount of 'bad' police that have appeared in movies. However, take a look at the trailer and I am sure you'll agree that Harrelson looks might impressive and not a very nice chap at all.
The cast is very very impressive too, with big names like Sigourney Weaver, Steve Buscemi, Ben Foster, Robin Wright, Ice Cube, Jon Bernthal, Anne Heche, Ned Beatty and Brie Larson all appearing. The film is written by Moverman and James Ellroy L.A Confidential) and the US can expect to see the film in cinemas late January 2012.
Synopsis:
Set in early 1990s Los Angeles, veteran police officer Dave Brown, the last of the renegade cops, works to take care of his family, and struggles for his own survival.
By Matt Wavish
[youtube]https://www.youtube.com/watch?v=vpte72HaLRE[/youtube]