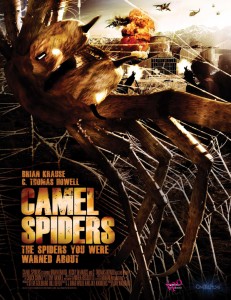 Arachnophobia is something many many people suffer from, myself included, and when Camel Spiders started making headlines thanks to soldiers in Iraq, I feared a film would eventually get made by these frightening little buggers. They are ugly, fearsome and are the work of the Devil himself, they have come straight from Hell. YouTube is full of horrific videos of these nasty beasts, and now they are set to invade our homes through the wonder of film.
Roger Corman is on producing duties, while Jim Wynorski (DinoCroc VS Supergator) directs. Wynorski also wrote the film with J. Brad Wilke. Brian Krause, C. Thomas Howell, GiGi Erneta, Diana Terranova and Michael Swan star.
Apparently a trailer was online a few months ago, but I can't find it! What I did find was a clip from the film which shows of some rather impressive effects considering it is a made for TV movie. Check out the clip after the synopsis. Camel Spiders will be released in the US on DVD & Bluray 27th March.
Synopsis:
Based on actual creatures that for years have tormented our armed forces in the Middle East, these creatures have now invaded the southwestern deserts of the United States. The Camel Spiders now freely hunt for prey, unafraid of any predator – including man. No place is safe no one is beyond their paralyzing sting. In the end, a small band of hearty fighters are forced to make one last stand against the creatures.
By Matt Wavish