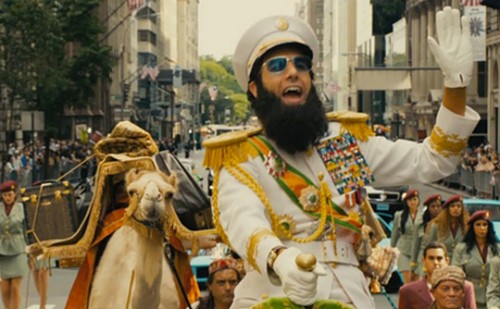 Now, don't get me wrong I love Sacha Baron Cohen, I firmly believe that his Ali G, Borat and Bruno creations are some of the funniest characters to have appeared in comedy over the last twenty years, there are parts of the TV series' and the movies which made me laugh so hard it hurts! Cohen is a genius with his brutal blend of comedy and fake documentary, so when the news broke earlier this year that he was bringing out a new film with a new controversial subject, I was excited.
However, the trailer landed yesterday, and after viewing it, I must admit to feeling a little disappointed to be honest. I barely laughed through the trailer, and while it is good to see Cohen changing tack and actually making a proper film, it is the style of Borat and Bruno that he does best, the documentary style of filming. The trailer here just felt a bit, well, forced I suppose and too much like a film. It feels far too much like he is playing a character instead of the natural humour he brought to his previous characters. I guess we will have to wait and see how the finished product turns out.
The Dictator arrives in UK cinemas 18th May 2012, and starring alongside Cohen are Megan Fox, Anna Faris, John C. Reilly, Ben Kingsley, B. J. Novak and Kevin Corrigan. Larry Charles directs from a script written by Cohen and Alec Berg.
Synopsis:
The heroic story of a dictator who risks his life to ensure that democracy would never come to the country he so lovingly oppressed.
By Matt Wavish