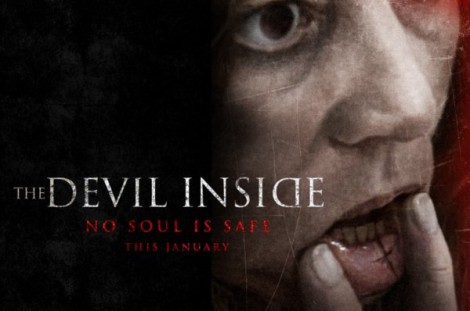 The sad news for us here in the UK is that William Brent Bell's superb looking exorcism horror, The Devil Inside, has been pushed back to 2nd March, while those lucky fans in the US will see it next week! But let's not get all teary eyed and sad, we will eventually get to see it, and from everything I have seen so far, it's going to be well worth the wait.
A fourth clip arrived yesterday which features a Priest voicing his concerns over the amount of different spirits which appear to be possessing a particular case. Multiple voices can be heard in the creepy clip, and this goes to show director Brent Bell is not taking any chances, he well and truly wants to scare the crap out of audiences. Check out the clip below.
Click here for our previous clips, trailers and images.
The horror stars Fernanda Andrade, Simon Quaterman, Evan Helmuth, Ionut Grama, Suzan Crowley and Bonnie Morgan. Brent Bell and Matthew Peterman wrote the film.
For more visit the official The Devil Inside website, "like" The Devil Inside on Facebook, and follow The Devil Inside on Twitter.
Synopsis:
In 1989, emergency responders received a 9-1-1 call from Maria Rossi (Suzan Crowley) confessing that she had brutally killed three people. 20 years later, her daughter Isabella (Fernanda Andrade) seeks to understand the truth about what happened that night. She travels to the Centrino Hospital for the Criminally Insane in Italy where her mother has been locked away to determine if her mother is mentally ill or demonically possessed. When she recruits two young exorcists (Simon Quarterman and Evan Helmuth) to cure her mom using unconventional methods combining both science and religion, they come face-to-face with pure evil in the form of four powerful demons possessing Maria. Many have been possessed by one; only one has been possessed by many.
(Source: Dread Central)
By Matt Wavish