Melancholia (2011)
Directed by: Lars von Trier
Written by: Lars von Trier
Starring: Alexander Skarsgard, Charlotte Gainsbourg, Charlotte Rampling, John Hurt, Kiefer Sutherland, Kirsten Dunst, Stellan Skarsgård, Udo Kier

[youtube]https://www.youtube.com/watch?v=wzD0U841LRM[/youtube]
Melancholia (2011)
(15) Running time: 136 minutes
Director: Lars Von Trier
Writer: Lars Von Trier
Starring: Kirsten Dunst, Charlotte Gainsbourg, Kiefer Sutherland, Charlotte Rampling, John Hurt
Reviewed by: Matt Wavish, official HCF critic
Lars Von Trier doesn't make films to appeal to a mass market, he has always stood by his own words of making films for himself. The problem with his almost desire to alienate himself from everyone, is that he actually makes very good films. Just look at his previous output, you cannot deny that films like Dancer in the Dark, Antichrist, Dogville, The Idiots and Breaking the Waves are true works of art and utter brilliance. Now the controversial director delivers quite possibly his finest film yet with Melancholia, yet another excuse for Trier to have a little moan about mankind, but here he actually gets the chance to destroy it. Knowing the sort of chap Von Trier is, I am sure the thought of destroying Earth with a colliding planet gave him great pleasure.
Something Von Trier does time and time again though, is get the absolute best out of his cast, and many of the cast here have never been better. Kirsten Dunst steals the show and absolutely shines as Justine, the person who takes charge of the first part of the film, and Charlotte Gainsbourg plays her sister Claire and the story shifts to focus on her at the one hour mark. Kiefer Sutherland, fresh form 24 and forever in the shadow of Jack Bauer provides an exceptional performance as Claire's wealthy husband John, an astronomer who is obsessed with the approaching planet named Melancholia. John Hurt and Charlotte Rampling play the parents, with Hurt giving a heartfelt, lonely performance and Rampling showing a real nasty side as the Mother who doesn't believe in marriage ceremonies.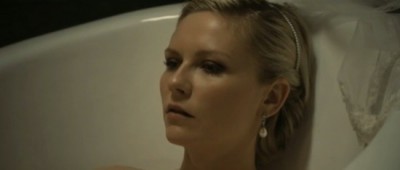 The first half of this powerful film is based around Justine and her new husband Michael (Alexander Skarsgard) and the film picks up as they head to their wedding reception for an evening of emotion and awkwardness. After a ten minute interlude of horrific visions accompanied by horror-like classical music, we meet Justine and Michael en route to their evening reception in a stretch limo which is struggling to manoeuvre around narrow country lanes. It sets a nice, comedic tone, but once we get to the evening reception things become a little uncomfortable. Justine seems afraid of being happy, and the persistent pressures to have a perfect day become too much for her. Having been married I can appreciate the pressures involved to try and please everyone, but here the whole thing is controlled by everyone apart from the newlyweds. Everything is on a schedule, speeches have to conform to the rules, and the fact the married couple are late has got sister Claire and husband John up in arms, along with everyone else. Your wedding day is supposed to be the happiest day of your life, but not here, there is too much pressure and family and friends react badly to events as they unfold. Justine's boss is there, simply to find out her next moment of brilliance and obsessively hounds her all night, even setting a new employee to follow her around in the hope the advertising genius will come up with a new slogan. This moves proves very damaging to both Justine's career and her marriage as a shocking chain of events follows.
Justine's  Mother Gaby responds bitterly during the speeches, taking herself upstairs to get away from the reception with Kiefer Sutherlands John comically attempting to throw her out. He has spent a lot of money on this reception, and we must not forget the hotel has 18 holes on its golf course! Justine gets to a point where it all becomes too much and takes herself away for a bath, something which irritates Claire and John, and John heads off to find her. Tragedy follows as Justine becomes so distant form the reception and the planned dance and timing of cutting the cake that when the newlyweds head of to the bedroom it doesn't quite work out. Von Trier handles the pressures of a couple having to conform to normality very well, and you can really feel the pressures that can be involved with family. The reception feels false, and Justine's desperation to just be herself and be happy is painful to watch, but Dunst portrays it incredibly well. Make no mistake, the first half of the film is uncomfortable viewing, and is guaranteed to raise tempers. This is certainly not the happiest wedding reception you will ever witness, but thanks to Dunst's powerful performance, you cannot help but feel sorry for her.
The second half kicks off at exactly the hour mark, and the story shifts to focus on the aftermath of the wedding and how sisters Justine and Claire come to terms with what has happened. The other main focus of the second half is Claire's husband John's obsession with the approaching planet which he says will not crash into Earth but will be a gorgeous site. John spends all his time on his telescope and even allows his Son to build a homemade tool to show if the planet is moving away or getting closer. Still filled with emotion, the second half at first feels calmer, and people's understanding of each other is welcome. Justine has hit rock bottom, but Claire, after the brutal way she ordered her around at the reception, is suddenly more patient and understanding. She baths her sister and even cooks her favourite food, meat loaf. There is beauty in this final half, pure emotions and a sense of sorrow and forgiveness. The approaching planet seems to have made Claire appreciate life, while Justine is hoping the planet collides with Earth and destroys everything. Justine breaks down, firstly in a shocking scene where she beats her horse, and later in a more arousing scene as she lies next to a river completely naked. If you are a fan of Kirsten Dunst and have a bit of a thing for her, then all your desires are answered here as she happily flaunts her assets.
Essentially Melancholia is Von Trier showing us the sadness of everyday life and how conforming to what is expected rather doing what makes you happy, will ultimately make you very depressed. Everyone who watches this will take something different from it as the film will connect with viewers on different levels. This is a huge film full of real and true emotive responses to situations, and paints a miserable, depressing picture of life itself. The final fifteen minutes with its loud classical music are powerful and awe inspiring with some quite brilliant special effects. To me this felt like Von Triers most personal film yet, but it is not an easy watch. However, the beautiful direction and cinematography, matched with some of the best performances you will see all year, all add up to a powerful, thought provoking almost brutal attack on the senses and the emotions. The performances are at times gentle, at others bitterly horrible, but it all adds up to one of the most brilliant, unique and brave films of the year. Love him or hate him, there is no denying that Von Trier is in a league of his own, and I truly believe this is exactly where he wants to be. There is genius at work here, and for all the wrongs that Von Trier does with his public talking, the movie world would be a boring, dull place without him.
Rating: