In light of the recent announcement of the flip cover for the forthcoming Catherine, publisher Deep Silver have announced the Stray Sheep Edition. While not as plentiful as the Japanese and US version, the European edition will feature similar extras.
"The "Stray Sheep Edition" is named after the Stray Sheep Bar where Vincent, the game's protagonist, spends most of his time after work and interacts with his lifelong friends,seeking advice for how to solve the dilemma he's currently embroiled in. Should he continue the affair he's having with the seductress Catherine, or abandon the sexy newcomer to deepen his relationship with his girlfriend Katherine?
This limited edition offers the following extras:
· An exclusive T-Shirt that is a replica of the Rave-T-Shirt that Vincent wears in the game
· Two Stray Sheep bar-themed coasters
· A seductive Catherine poster that  is exclusively available in this deluxe edition
· A pizza delivery box from the Stray Sheep Bar that serves as the packaging for all the extra items found in the European deluxe edition
"We wanted to offer Europe's Catherine fans something special and unique, something that was not available before," says Peter Brolly, brand manager at Deep Silver. "And with a very competitive price point for the Deluxe edition, we ensure that it's an extremely attractive proposition – just like Catherine herself."
The Stray Sheep Edition of Catherine will have a price of £54.99, the standard edition will  be available for £44,99."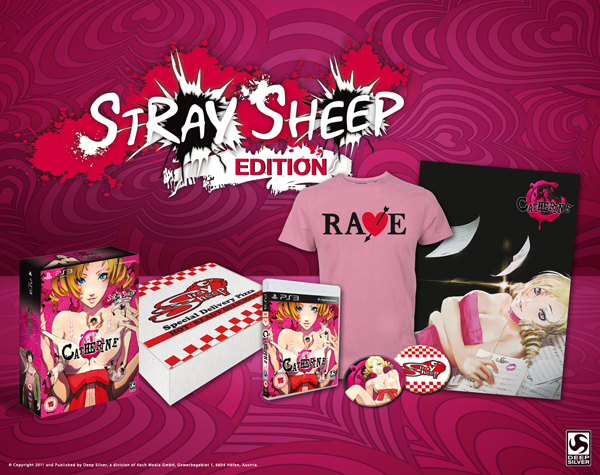 Unfortunately we don't get the soundtrack like every other region did, but it's still a fun looking special edition.
Catherine, from developers Atlus, finally makes her way to these shores in February 2012 and will be available on PS3 and Xbox 360.
Juan