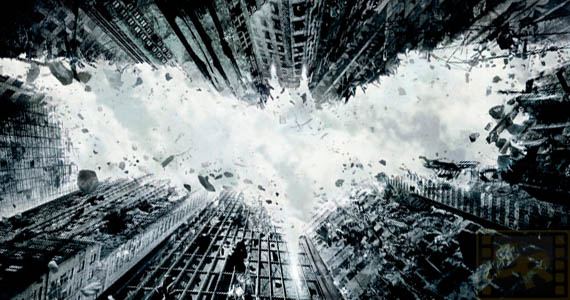 The 20th July 2012 feels like a long long way off, and as we get teased more and more by Nolan on his third and final film in his Batman trilogy, the pain of waiting seems to get getting worse. A brand new trailer has been promised this month, and you can be sure we will bring it to you as soon as it becomes available. Also this month see's the six minute prologue arrive in selected IMAX cinemas, to find out if your local cinema qualifies, click our previous story here.
As if all this wasn't enough, a brand new poster was revealed over the weekend which sends a chilling message that Batman is about to get hurt, seriously hurt at the hands of Bane. It is a worrying poster that's for sure, with Bane looking fearsome as ever and the almost black and white poster adds a real sinister edge.
Christophe Nolan directs, and also writes along with Jonathan Nolan. Christian Bale, Tom Hardy, Gary Oldman, Joseph Gordon-Levitt, Anne Hathaway, Cillian Murphy, Marion Cotillard, Morgan Freeman, Juno Temple and Michael Cane all star.
To see all our previous stories, click here.
Synopsis:
The terrorist leader Bane arrives in Gotham City, and pushes its hero Batman to breaking point and beyond.
By Matt Wavish