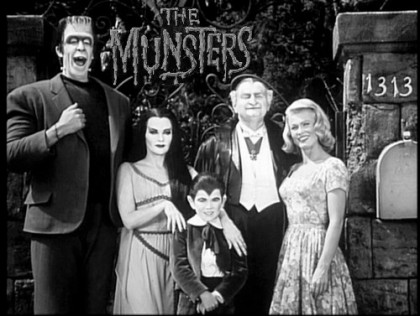 The plot details for Bryan Singers pilot episode of his reboot of beloved TV series, The Munsters, was revealed earlier today. Website Moviehole got the exclusive, and we will share the plot details here with you. I really like the sound of this:
"It's a scout camp, and the scout master has just rounded up the scouts in an effort to find out who has eaten all the boxes of food. While the token fat kid is being eyeballed, a ravaging wolf is about to crash the party…
…. next morning, a young boy wakes up naked in the woods.
After the credits…
Marilyn, the human amongst the family, stops a construction crew from taking a wrecking ball to a decrepit old mansion in Mockingbird Heights. Within moments she's negotiated with an estate agent to buy the property – which, she's informed, formerly housed a serial killer who poisoned hobos (the agent warns her that she might even come across a body or two).
We discover that the Munster's have had to move to Mockingbird Heights because of what young Eddie did in the teaser. That "baby bear" attacking the scout camp was a sign that the Munster's needed a new address before anyone realized who was really behind all those scratches and bruises that the scouts received.
Appropriately, the Munsters arrive via crate to their new address.  And they spend the first hour getting to know the locals (Grandpa licking his lips as he's taken from house to house),  hunting down a replacement 'heart' for the ailing Herman and largely, helping Eddie realize that he's not a monster"
Sounds good to me, to see the full article click on the Moviehole link at the bottom of this page where the characters are described in depth as well.
To read more stories we have covered, click here
(Source: Moviehole)
By Matt Wavish