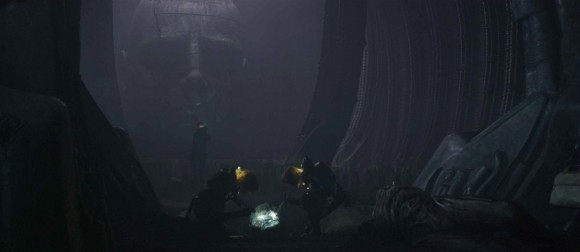 The writer of Ridley Scott's Prometheus was recently interviewed by The LA Times, and naturally with the trailer released just last week, he was asked to explain a little about it. I doubt there is a horror fan on the planet who hasn't seen the incredible trailer, but with SO much going on it is a trailer that needs multiple viewings to try and figure out what is happening.
Ridley Scott's film has been shrouded in mystery since it was announced, and the director has still not made it clear as to whether the film is indeed an Alien prequel. It looks like one based on the trailer, but everyone interviewed thus far about the film cannot give a straight answer. It would appear that Scott doesn't want to give an answer, and is relishing in the mystery, and to be honest, I don't think I want to know. I'd rather wait and see the film to make my own mind up, and it will be quite an achievement if Scott manages to guard his secret until the films release on 1st June 2012.
Anyway, the following is some of what Lindelof (Lost, Cowboys and Aliens, Star Trek 2) said about Prometheus, and like everyone else, he too leaves us baffled:
"One part of me sort of wants to be working on something where I can say, 'This is exactly what this is' without being secretive or mysterious," said Lindelof to the Times, "but I think that with the genesis of this a couple of years ago — when Ridley announced that he wanted to make an 'Alien' prequel — that's where this began and where it's evolved to is this conversation: Is it or isn't it [an 'Alien' prequel]? And I think this little sort of dance that we're doing basically existed prior to anybody seeing anything. Now that people are seeing stuff I think the material kind of speaks for itself. If you're looking at it through the prism of 'I want it to be that,' you'll notice the way the word 'Prometheus' comes up [in a way that resembles the 'Alien' classic logo] or look at the production design and the way the whole thing feels. If you're looking at it from the perspective of wanting it to be something more original, I think the trailer accomplishes that by being pretty cool to people who have never even seen 'Alien.'"
Lindelof added: "It's accomplishing what we set out to do. I wish that we didn't have to be so mysterious about it but mystery can be a good thing as long as you've got the goods to back it up. In this case, when the movie arrives, one of the most visionary filmmakers in the history of cinema will be putting his cards on the table and I'm just kind of standing behind him with my arms folded."
Check out all our previous stories, including the stunning trailer, here
Prometheus, stars Noomi Rapace, Michael Fassbender, Charlize Theron, Idris Elba, Patrick Wilson, Logan Marshall-Green, and Ben Foster, and will arrive in UK cinemas 1st June 2012.
Synopsis:
Ridley Scott, director of 'Alien' and 'Blade Runner,' returns to the genre he helped define. With 'Prometheus' he creates a groundbreaking mythology in which a team of explorers discover a clue to the origins of mankind on Earth, leading them on a thrilling journey to the darkest corners of the universe. There they must fight a terrifying battle to save the future of the human race.
(Source: The LA Times)
By Matt Wavish