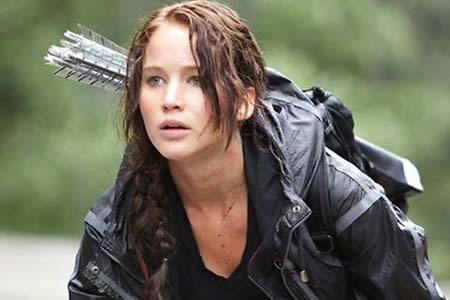 Due for release in UK cinemas 23rd March 2012 comes director Gary Ross' highly anticipated The Hunger Games. The film has been talked about for what seems like ages, and it is looking very promising that the finished product is gonna be awesome. The trailer debuted a little while ago, and you can see it at the bottom of this post, and just this week the official poster was revealed, check that out below as well.
Based on the story by Suzanne Collins, the film stars Donald Sutherland, Woody Harrelson, Wes Bentley, Elizabeth Banks, Stanley Tucci, Liam Hemsworth, Paula Malcolmson, Willow Shields, Latarsha Rose, Lenny Kravitz, Brooke Bundy, Leven Rambin & Jack Quaid (#1), Alexander Ludwig & Isabelle Fuhrman (#2), Ian Nelson & Kalia Prescott (#3), Ethan Jamieson & Tara Macken (#4), Chris Mark & Jackie Emerson (#5), Ashton Moio & Kara Petersen (#6), Sam Ly & Leigha Hancock (#7), Samuel Tan & Mackenzie Lintz (#8), Imanol Yepez-Frias & Annie Thurman (#9), Jeremy Marinas & Dakota Hood (#10), Amandla Stenberg & Dayo Okeniyi (#11), and Jennifer Lawrence (Katniss) & Josh Hutcherson (Peeta) (#12).
Synopsis:
In a not-too-distant future, North America has collapsed, weakened by drought, fire, famine, and war to be replaced by Panem, a country divided into the Capitol and 12 districts. Each year two young representatives from each district are selected by lottery to participate in The Hunger Games. Part entertainment, part brutal intimidation of the subjugated districts, the televised games are broadcast throughout Panem. The 24 participants are forced to eliminate their competitors, literally, with all citizens required to watch. When 16-year-old Katniss' young sister, Prim, is selected as the mining district's female representative, Katniss volunteers to take her place. She and her male counterpart Peeta, will be pitted against bigger, stronger representatives who have trained for this their whole lives.
By Matt Wavish