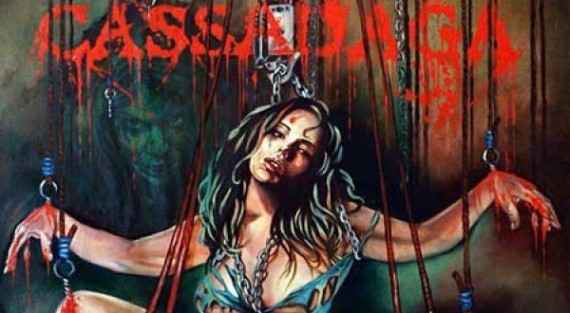 Anthony Diblasi is the director responsible for the wonderful horror Dread, which was based on a Clive Barker story. His latest film, Cassadaga, appears to throw in pretty much every element you can think of in horror, and if you remember I brought you the trailer sometime ago, and it had me very very excited!
The film is due to make its UK premier at Film Four's Frightfest in Glasgow on 25th February, so if you are nearby then you should get down there and watch it. If you need further proof, or even a gentle reminder, then I have attached the terrific trailer here for you to enjoy all over again.
Tombstone Distribution revealed a new one-sheet recently, and while it has nowhere near the impact of the graphic poster revealed for its festival release last year, it is still rather good and slightly unsettling. Check out the new and the original one-sheets after the synopsis and trailer.
Cassadaga stars Kelen Coleman, Kevin Alejandro, Louise Fletcher, Rus Blackwell, Hank Stone, J LaRose, and Amy LoCicero.
Synopsis:
Devastated by the death of her younger sister, Lily Morel seeks solace at the spiritualist community of Cassadaga. But instead of finding closure, she contacts something else – the vengeful ghost of a murdered young woman. With her life crumbling all around her, Lily races to unravel the mysterious circumstances surrounding the woman's death – a task that will bring her face-to-face with a sadistic serial killer known only as "Geppetto".
By Matt Wavish