A brand new poster was revealed for the upcoming horror, Abraham Lincoln: Vampire Hunter, and not only that, a new synopsis. Check out the new and rather brilliant poster below, and the new synopsis follows:
Directed by Timur Bekmambetov and produced by Tim Burton, the film stars Benjamin Walker, Rufus Sewell, Dominic Cooper, Alan Tudyk, Anthony Mackie, Mary Elizabeth Winstead and Robin McLeavy. You can see the film in UK cinemas from 2nd August.
Synopsis:
"The new movie follows Lincoln (Walker) from his boyhood on the frontier through his assassination by John Wilkes Booth and — because this is a vampire story — beyond.
Young Lincoln, having learned that his grandfather and mother were killed by vampires, vows to kill every last blood-sucker in a country that is crawling with them. On realizing that vampires are tangled in the slave trade, Lincoln's resolve grows and takes on a moral dimension. To complicate matters he also learns that the creatures come in two varieties, good and bad."
By Matt Wavish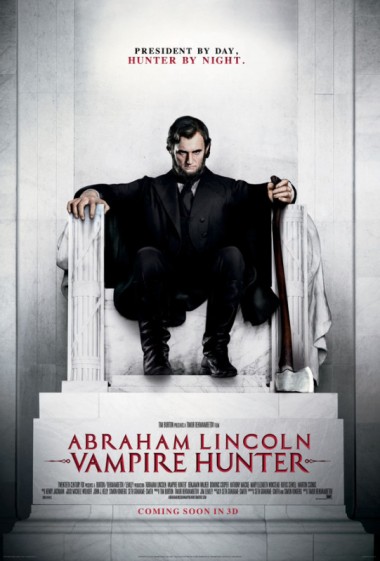 (UPDATE) Two new images have now been revealed, check them out below. Gotta love the gothic tone to these images!