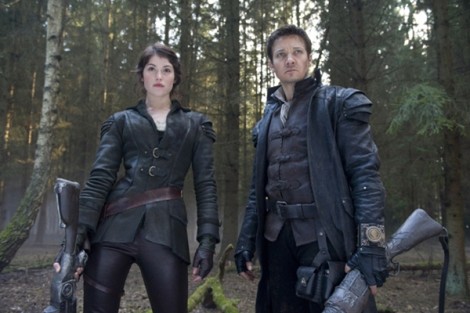 Usually the January slot is a dumping ground for films either not expected to perform all that well, or Oscar contenders. Paramount have now realised that if you cleverly market a film, then January can be a very successful month. For proof of this, just look at what they have pulled off with The Devil Inside.
Hansel & Gretel: Witch Hunters, directed by Tommy Wirkola (Dead Snow) and starring Jeremy Renner and Gemma Arterton, was due for release this March, but things have now changed and for all the right reasons it would seem. Now, I can't say I am not disappointed because this was one of my must-see films of the year, but if you read on for Paramount's reasoning for it, I am sure you'll agree it makes perfect business sense.
The film will now be released in January 2013, and firstly Paramount will promote the film like they did with The Devil Inside, creating a buzz and giving movie fans something to really look forward to in the normally slow-ish month of January. They hope to repeat the success of The Devil Inside, and with two big name stars, it is possible and this leads on to the second reason. Jeremy Renner.
The actor has been making a real name for himself after his terrific performance in Kathryn Bigelow's The Hurt Locker, and with Mission Impossible 4 currently doing big business, and The Bourne Legacy due out 17th August and The Avengers due 27th April, Renner will be a major name and Hansel & Gretel will be able to cash in on his star quality much better if released after such big films.
Finally, the 3D is another reason to push it back. The format has been slowly, but surely recovering from a major drop off in quality and trust from the movie going public. Films are now being released which have been filmed in 3D rather than transferred, so the quality is better and the format is expecting to have a much better year in 2012. With that in mind, Paramount are hoping by the time January 2013 comes around, 3D will be big business again and people will be desperate to watch the latest 3D film.
A shame we will have to wait another year to see the horror comedy, but a move we will just have to accept, and certainly a clever tactic on Paramount's part.
By Matt Wavish