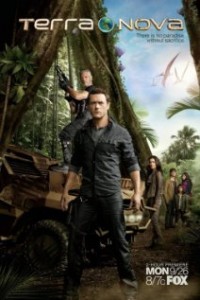 Terra Nova: Episode 11 – 'Within' (contains spoilers)
Creators: Greg Silverstein, Kelly Marcel
Director: Katen Gaviola
Writer: Barbara Marshall
Starring: Shelly Conn, Jason O'mara, Landon Liboiron, Naomi Scott, Stephen Lang
Reviewed by: Matt Wavish, official HCF critic
I won't waste too much time with this review, simply because this was an episode to lead into the season finale. Again, this was a fantastic episode, with some thrilling moments, some exciting moments and some heartfelt drama. As ever, Taylor commands everything, but as keeps on happening in these later episodes, other characters are being given the chance to shine. Taylor's son, Lucas, is becoming more prominent as we head toward the finale which will no doubt see him open the portal and allow people in from 2149. Taylor does not want this to happen as these people are only out for Terra Nova's resources, and will destroy everything else.
Meanwhile, Jim continues his search for the mole, and along with Taylor, they soon learn this person to be Skye. Taylor is clearly hurt by this as he had taken in Skye almost as if she were his own daughter. However, as both Jim and Taylor deal with what they have learnt, Skye then delivers another blow as she explains how the Sixer's have her Mother. Taylor cold have gone two ways here, and thankfully, he did the right thing and showed compassion. He even orders Curran, the soldier banished earlier in the series, to infiltrate the Sixer's camp and get Skye's sick Mother back.
Josh also becomes a more prominent part of the story early on, as Skye tries to get him to lie about her whereabouts in an attempt to cover up her being a spy. This leads to some emotional scenes between Jim and Josh, again, something which is happening more and more in these later episodes.  The main bulk of this episode was Taylor and Terra Nova preparing for the 11th Pilgrimage, and the possibility of a war as soldiers from the future come back to claim as much of Terra Nova's resources as possible. We know a big battle is ahead, Taylor knows it, and if I were living in Terra Nova, I would feel much safer knowing Taylor was on my side.
This episode builds up the excitement nicely for what is about to come, and with the way this show has been improving episode by episode, I have no doubt that the finale will be a lot of fun!