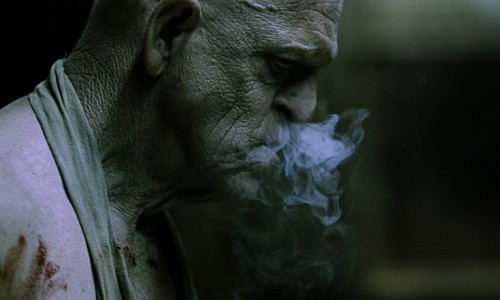 Ah the wonderful Michael Berryman, made famous amongst the horror community after his savage performance as Pluto in Wes Craven's The Hills Have Eyes. Since then he has gone on to become a horror icon, and he has joined a superb cast of horror veteran's in Rob Zombie's The Lords of Salem (due for release later this year). However, Berryman is also the star of another new horror called Below Zero, and check out the trailer to see just how creepy he is.
Below Zero is directed by Justin Thomas Ostensen and has been written by Signe Olynyk. Based on a true story, the film also stars another familiar face, Edward Furlong, who plays the main character Jack 'The Hack'. Check out the trailer and synopsis below:
Synopsis:
Based on true events, BELOW ZERO is a thriller with a 'Fargo' feel. It is the story of 'Jack the Hack', a less than average, but once successful screenwriter who now faces writer's block. Desperate to meet a career-saving deadline and lock out the distractions of his troubled life, Jack arranges to be left alone and locked inside a meat cooler, with only vegetarian meals and his imagination to inspire him. As the temperature drops, the lines between reality and fiction blur, and Jack's script comes dangerously to life. Will he make the most important deadline of his career? Or is Jack 'just a hack'? While writing the script, the actual screenwriter and producer of BELOW ZERO, Signe Olynyk, arranged to have herself physically locked in the meat freezer of an abandoned, remote slaughterhouse. That's partly how this story developed. It was filmed at the same location.
By Matt Wavish