The River: Episode 1 "Magus" & Episode 2 "Marbeley"
Creators: Oren Peli, Michael R. Perry
Director: Jaume Collet-Serra
Writers: Michael Green, Michael R. Perry
Starring: Bruce Greenwood, Joe Anderson, Leslie Hope
Reviewed by: Matt Wavish, official HCF critic
I have been looking forward to The River for some time now, and now that I have finally laid eyes on it, I am pleased with what I have seen. However, it hasn't given me the wow factor I was expecting. As with all new TV shows, it takes a while to get to know your cast and to get into the story, and thankfully The River is showing an awful lot of promise. My main concern is that I hope they don't burn out too quick, and from what I have seen, I am hoping the rushed pilot episodes is down to the fact the makers have so much they want to show us. With breakneck pace we are very quickly introduced to legendary explorer Emmet Cole (Greenwood) and his family, and in the blink of an eye we learn what happened to him. Cole believed there was "magic out there" and searched far off lands for proof of this, and one expedition lead him to the Amazon River, the place where he disappeared. Six months later his personal beacon goes off, and his wife Tess (Leslie Hope), struggling to accept he has gone, is desperate to go looking for him. Her Son Lincoln, is not so enthusiastic. He now deals with the loss of his Father, the much loved creator of the TV series 'Undiscovered Country' by drinking to forget and it takes all of two minutes to convince him to go.
It has been decided to document the expedition, and so the TV series we are now watching is all the footage from the expedition. If you are a fan of found-footage then you are in the right place, there's tons of it, from handheld cameras to cameras fixed to the walls of a river boat. Everything here is presented in the format, but for those sick of the shaky cam, fear not, the cameras on the river boat are fixed to the wall, and actually deliver some of the more unsettling scenes. Along for the ride are Undiscovered Country producer and long time friend of Emmet, Clark Quietly (Paul Blackthorne) and his cameraman A.J. Paulain (a superb Shaun Parkes). Emmet Cole's legendary boat which he used for all his expeditions, the Magus, had a mechanic named Emilio Valenzuela (Daniel Zacapa) and he is onboard to help here also, as is his Spanish speaking daughter Jahel (Paulina Gaitan). The strong and at times quite scary Captain of the expedition is Kurt Brynildson (Thomas Kretschmann) and finishing off the team is the unexpected arrival of Lena Landry (Eloise Mumford), daughter of Emmets cameraman Russ Landry who has also disappeared. Here is the group who will lead us through these 8 episodes of terror and wonder, but just how will they hold up to keep our interest?
I think these are a great bunch, and the acting is spot on. There are some hidden secrets, like Emmets wife Tess clearly having had relations with Clark, and there is also something between Lincoln and Lena which has not quite surfaced yet. It also appears that Captain Brynildson may have a secret agenda. These mysteries surrounding the characters are all thrown at us rather quickly, almost skimmed over as we join them on their river cruise. We eventually find Emmet's boat, The Magus, and here is where the show really starts to get interesting. With the ship littered with cameras, the new TV crew are able to get things up and running and after a creepy moment with some strange phenomenon on the boat, we get to watch back some of Emmet's videos. They make for some disturbing viewing as we see him start to believe in magic, but not in a good way, he has gone dark and the more we watch of his video, the more disturbed he appears to be. This very nicely sets up the show for something really really good, but extremely unsettling about to happen. It would seem that The Amazon jungle has some sort of unique power, something which wasn't supposed to be discovered, and suddenly our crew are having to deal with some rather spooky events.
A strange black shadowy creature is the first to make its presence known as it attacks the boat, and this leads to some moments of genuine terror made all the more creepy by the use of handheld camera. Later we see Jahel become possessed by Emmet in a bizarre scene which seemed necessary to move the plot along, but sadly felt more laughable than scary, and then there's the collection of dolls in the woods. Yes, the dolls in the woods, now THIS is exactly the sort of horror stuff I was hoping for. It leads us toward the end of the second episode, and oh yes this is a very good indication for the show, and if the makers can keep things at the level of creepiness delivered by the dolls and the scenes following it, then we could well be on to a winner with The River!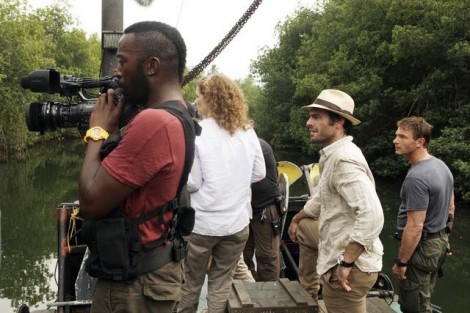 I still have very high hopes, and high expectations that this show will deliver, and it should deliver. I mean, it has a good cast who are all doing a great job so far, with the weakest character, sadly, being Tess. The cast are doing a superb job with the found footage idea, however Leslie Hope seems to be struggling with the design, she appears to be acting too much while the rest all appear to be natural, which is a shame because she is supposed to be the main character. We must also not forget that there are a number of top quality names from the horror genre involved here, now we all know that Oren Peli is involved, but let's not forget there are some well respected names involved in producing this, with Steven Spielberg and Jason Blum among them. The River has started well, if a little rushed, but the setting is superb, I love the use of found footage, the characters are strong and the mystery is very intriguing. The double pilot episode has left me wanting more, a lot more, and I really hope this show lives up to its promise. It may not be as scary as everyone expected, but so far it has delivered a damn fine story and a fantastic set up.