The Woman In Black (2012)
Directed by: James Watkins
Written by: Jane Goldman, Susan Hill
Starring: Ciarán Hinds, Daniel Radcliffe, Janet McTeer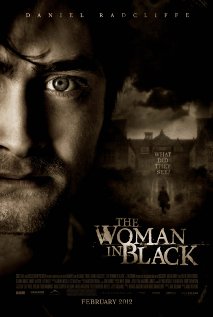 The Woman in Black (2012): Out now in cinemas
(12A) Running time: 95 minutes
Director: James Watkins
Writers: Jane Goldman, Susan Hill (novel)
Starring: Daniel Radcliffe, Ciaran Hinds, Janet McTeer
Reviewed by: Matt Wavish, official HCF critic
The Woman in Black is one of those horrors that has been hyped and hyped to the point I was worried it may not live up to expectations.  Rumours of it being the scariest film of the year, and also Daniel Radcliffe managing to leave his Potter days well and truly behind meant the film had a lot of pressure to deliver. Added to that the fact the book is scary, and the stage play is supposedly terrifying, AND the fact Hammer were producing, The Woman in Black could not go wrong, could it? James Watkins is a director who proved himself with the stunning, yet brutal as Hell Eden Lake, and the man really made his mark on the horror world. Could he create another work of brilliance using a completely different style of horror? Could he bring back that classic horror of old, with an old fashioned setting and a familiar yet chilling story? And the very big question is, could Watkins make this film scary?
Well, I am happy to say that my answer to all the above questions is a great big yes, and then some! The Woman in Black is without doubt one of the scariest films I have seen in a long time, and all these people moaning at the fact it is only a 12A certificate should see the film for themselves before fucking complaining at the family friendly rating. The Mothman Prophecies and The Others were both 12A's, and they scared the pants off me. The Woman in Black is scary, but not fun scary like, say, Insidious where the scares are played for total piss your pants, over the top almost gimmicky scares. Hell no, The Woman in Black conjures up an atmosphere, a good story and some damn fine acting before hitting you with a sudden onslaught of scare after scare which really work. This film gets right into your fear, this is no comical, fun, audience friendly horror, The Woman in Black is chilling, and will leave you feeling very very unsettled. This is proper horror, deep, chilling, well timed and nightmarishly disturbing with a mystery at its heart and a slightly touching story as its outer shell. James Watkins has created a proper old school horror and somehow made it feel very current. For all those fans sick of torture porn, found footage and all out gore, for all those fans wanting something a little different, for all those fans looking for a classic ghost story like we used to see years ago, for all those fans wanting some truly epic scares, then this is exactly what you have been waiting for.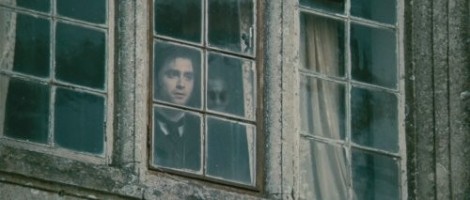 Daniel Radcliffe plays Arthur Kipps, a troubled lawyer who has lost his wife and now looks after his young son with his maid. Radcliffe excels here, and any memory of Potter is lost within the first few minutes as a radiant, happy Kipps remembers his wedding day before the light disappears and we meet a dark, tortured soul who is struggling to live each day. He has a strong relationship with his son, who worships him, and it is clear the Father and son have a strong fondness for each other. Kipps is offered a job which he is told if he does not take it, he will be out of work. The job is to head to a quiet village on the outskirts of England, there, he must visit Eel Marsh House and go through the papers of the recently deceased Mrs Drablow and make sure everything is in order. Kipps is not exactly welcomed in the village, with the Inn where his room is booked telling him they have no rooms, and the lawyer working on Mrs Drablow's papers basically telling Kipps to get lost. Thankfully Kipps befriends to richest man in town, Simon Daily, the only man with a car but who lost his son in an accident. Kipps goes to his house for dinner one night, where he learns that Daily's wife has been left traumatised to the passing of her son, and often appears possessed as she begins to draw strange images on whatever she has in front of her. With the locals acting strangely towards Kipps, he decides to catch a lift to Eel Marsh House and make a start on his work, knowing his son will be visiting in a few days. Here is where it gets really scary!
Eel Marsh House is a frightening building, you have to get their by a road which is usually underwater. With the tide out, you can get to it, it is an almost island like area, with a massive mansion hidden behind the woods. Creepy doesn't even come close to explaining how this house looks, and Kipps is about to learn the true meaning of the word fear as he spends some time in the house. To tell you much more than the fact a ghost of a woman in black haunts the house would spoil your enjoyment, but believe me this film really does turn into a real spine tingler. The build up is perfectly paced, with Watkins hinting, but never quite delivering full on scares until around the half way point. The decision to often use just the sounds of creaking floor boards with no music whatsoever is a superb choice in creating some of the most tense scenes I have witnessed in a cinema for ages. You really do end up a nervous wreck as we are teased with creepy dolls, rocking chairs, footsteps, door knobs moving, closed doors suddenly opening, and the ever present ghost appearing here and there in the shadows. This is vintage horror, however Watkins sometimes pushes his build ups to an almost unbearable level of tension before delivering a scare that is modern, but fitting to the mood of the film. The director has perfectly blended old school horror for a modern audience and there were many times in the cinema people were screaming out loud. You could actually feel the audience begging for the tension to stop, a sense of "for God sake please, just finish the scene and bring daylight!"
Honestly, when this film delivers, it really is THAT scary. However, it is not just the scares which make this film so special. As I said, Radcliffe is a revelation, he gives an outstanding performance and has really matured as an actor. He is both believable and vulnerable, and is the perfect opposite to Ciaran Hinds' Simon Daily. Daily is a strong character who doesn't believe in all this spooky mumbo jumbo, the story of seeing this woman in black and bad things happening does not sit right with him. Even though the villagers accuse Kipps of starting off a chain of events causing the death of some of the children, and even with his wife acting strangely, Daily refuses to believe. Hinds' performance is equally as good as Radcliffe, and the supporting cast all do exceptional jobs. For me though, the biggest selling point is the design and setting of the film itself. Many horrors have tried to recapture those Gothic looks of the 70's, and even earlier, however none have managed to get it quite as right as Watkins does here. Even down to the thunder and lightning, the candles, the marsh outside the house, the village itself, everything here screams out old school vintage horror, and it really is magnificent to look at. When music is used, it is creepy to the extreme and very unsettling, and clever camera angles like POV shots of Kipps walking up or down stairs, or sudden movements to see what the noise was, to a simple, steady camera focusing on Kipps as he attempts to light a candle, all come together to create an atmosphere of pure, adrenalin fuelled terror.
The Woman in Black is one of the finest examples of the horrors of old, simple yet effective, patient but with nerve shredding tension, scary, but not always in the places you expect, and designed to deliver the sorts of chills that will haunt you for days, weeks, maybe months after. If you want to go and see a horror where the majority of it will be spent cowering behind your hands, then The Woman in Black is perfect. This is simple, unquestionable terror at its best, with a story that is not there simply to fill in the gaps, but fuels the terror in a way a lot of modern horror has now forgotten how to do. This is horror not only for the purists, but for anyone who feels like being absolutely terrified for 90 minutes. This is The Woman in Black, the finest horror I have seen in sometime, and has set the standard for 2012 in a big big way. You will be hard pushed to find something as scary as this for a long time!
Rating: