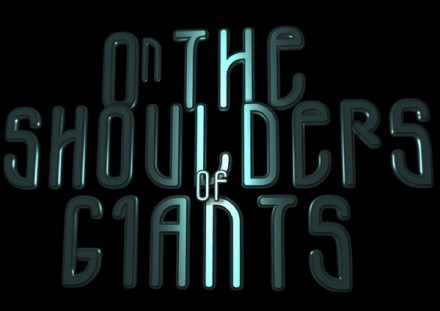 Director K.D. Barkers retro sci-fi movie, On The Shoulder of Giants looks fantastic, and is guaranteed to being back memories of when sci-fi was made on a simple and small budget. No CGI, all good old fashioned special effects will be seen here, so please, watch the trailer and fall in love with it, you know you want to!
The director himself had this to say about the trailer on Youtube:
"The "Into the Unknown" trailer was created to reveal more of the film's narrative and set up enough intrigue to warrant growing interest in the final film. That might seem like a pretty redundant statement, but as a film-fan myself I quickly become weary when a trailer reveals the film's best bits. I really want you to come back and be captivated by the mystery of what could possibly happen to the crew in OTSOG. For this trailer my sole intention was to ensure there were no unintentional spoilers or climatic giveaways; what's the point of sticking around to watch the whole film if you have just watched a potted version! And while we are here; a big hoorah for adult centric science-fiction: there really is a lot more occurring below the surface in this film. Above all else OTSOG was produced from my desire to entertain and show my work. I sincerely hope you enjoy watching it"
What a nice chap!
Sarah Wood and Adam Lee star, and it sounds like the makers are looking to release the film in the summer. We will have more on this as it develops.
Synopsis:
In the 23rd century mankind had finally traveled beyond the confines of Earth's solar system and made contact with intelligent extraterrestrials. New forms of atomic propulsion have finally made space exploration to distant worlds possible.
During starship Andromeda's maiden voyage its Einstein-Rosen (ER) drive is successfully tested. A vessel equipped with an ER drive is capable of crossing the galaxy in days by traveling through self-generated wormholes. The ER drive was designed by the child science genius N'tron Zepethar.
Fifteen years earlier the starship Leviathan (with Zepethar aboard and propelled by his first version of an ER drive) disappeared on its maiden voyage. As the only other vessel equipped with an
operational ER drive, the Andromeda is reassigned to the Leviathan's rescue mission.
The Andromeda's crew locate the crashed Leviathan on Theta-25L, a desolate planet 45,000 light years from Earth. Whilst attempting to contact the Leviathan, the Andromeda's captain is killed. This untimely tragedy imposes the captaincy on Commander Jane Altaire.
After fifteen years on Theta-25L, Zepethar is the sole survivor of the Leviathan's crew. When Commander Altaire begins searching for answers to the Leviathan's demise, it soon becomes apparent both Zepethar and Theta-25L harbour terrifying secrets…
By Matt Wavish