Cold Fish, Tsumetai nettaigyo (2010)
Directed by: Shion Sono
Written by: Shion Sono, Yoshiki Takahashi
Starring: Asuka Kurosawa, Denden, Mitsuru Fukikoshi

Cold Fish(Tsumetai nettaigyo) (2010)
(18) Running time: 144 minutes
Director: Shion Sono
Writer: Shion Sono
Starring: Makoto Ashikawa, Denden, Mitsuru Fukikoshi
Reviewed by: Matt Wavish, official HCF critic
Now, here is yet another Japanese film that is very hard to categorise, but is an extremely fascinating picture. Cold Fish expertly fuses black comedy with horror, with some family drama and a sort of coming of age tale added into the mix for good measure. At almost two and a half hours long, amazingly the film never feels like it is outstaying its welcome, instead each and every scene is more fascinating than the next, and the film heads down a darker and more violent path as we go through the story.
Shamoto is the proud owner of a tropical fish store, it isn't huge but it gets him by in life. He doesn't ask for much apart from a quiet, un-eventful life. He never really stands up for himself, and doesn't pay much attention to his stunning, young wife and ignores the hate his daughter has for her new stepmother who is not much older than her. Shamoto's wife died a few years back, and it would seem the family has been broken ever since. His new, young wife lives by routine, hides going out for cigarettes, gets beaten up by her step daughter, and doesn't really allow Shamoto to touch her. The daughter has a boyfriend, and he usually calls during speechless meal times and she runs off to meet him. Nothing is really going right for Shamoto, but then nothing is really going very wrong.
His daughter is caught shoplifting, and by chance a man called Murata comes along and saves her from the shop manager. All he asks in return is that Shamoto visits his own fish store, a much bigger and extravagant store than what Shamoto has. We learn, from his equally stunning and seductive wife, that Murata is a loud, aggressive and bullying man who always gets what he wants, and he wants Shamoto's daughter to join his team of scantily clad employees at his fish store. He also plans to fix Shamoto's pathetic life. On his daughter's first day, Shamoto is sent home while Murata discusses employment with Shamoto's wife. Loud and very forward, Murata allows her to smoke, and seduces her before having sex with her on the floor of his office. We later learn that Murata not only always gets what he wants, but is happy to kill those who do not please him.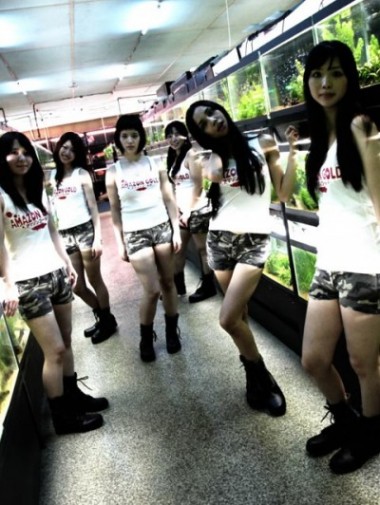 He later poisons a man who's brother is in the Yakuza, and it is here that Shamoto realises the man he is now friends with is a bit mental, and Murata has no intention of letting Shamoto get away. Not only that, but it turns out that Murata's legal councillor is plotting to get rid of Murata once and for all, and he spends his time pretending to be Murata's aid while sleeping with his wife. With all these elements in play, it is obvious things are bound to start going wrong, but you will never predict quite how wrong things can get! The film heads down a violent, vicious path, but never loses site of making the viewer laugh, usually by the madness of it all. Seeing Murata casually dispose of his dead bodies, with his wife helping out is constantly amusing, especially when they come across body pieces like "it's a weenie", or complaining about the "fat fuck!". It's hilarious and brilliantly distasteful. The comedy here is the sort of stuff you feel you shouldn't be laughing at, but you just cannot help it. The violence is realistic and as the film goes on, becomes more graphic. Oddly, the film is very erotic too, with both Shamoto and Murata's wives wearing plenty of short skirts, low cut tops and flirting a lot. A scene mid way see's Murata's wife and Shamoto's daughter share a very teasing lesbian clinch, all the while Shamoto and Murata are in the next room, trying to explain to Yakuza exactly what happened to one of their brothers.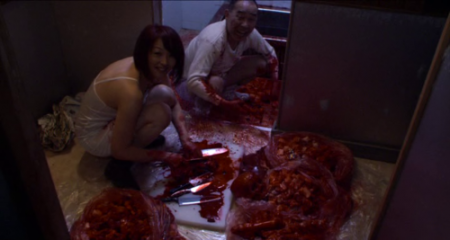 Amazingly this baffling, dark and at times incredibly violent film is based on actual events! It is easy to say it in a review, but much harder to imagine once you have watched the film. Cold Fish is a strange film indeed, a story of one man's journey through a manic time in his life, a sort of coming of age of a grown man who finally learns the value's of life. It is a tale of a broken family which needed an injection of madness to bring them together (obviously in the weirdest of ways), and it is the story of a constantly shouting, aggressive and completely bonkers owner of a fish shop which is better than all his competitors. Cold Fish is everything you would expect from Japanese cinema, on full throttle. This is insane, bonkers, crazy stuff, and the fact it is true makes it all the more ludicrous. A true story, but one which could only come from Japan, meant in the nicest, most respectful way of course!
Rating: