In cinemas today, The Devil Inside is expected to scare audiences everywhere with it's bone-crunching, shriek-inducing possession of not one, but four demons!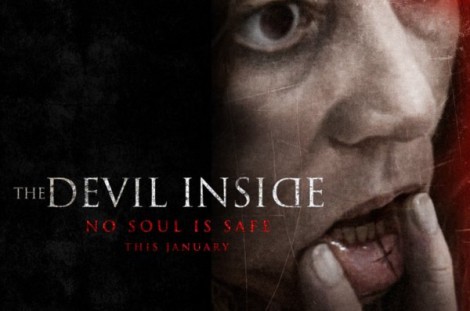 In 1989, emergency responders received a 9-1-1 call from Maria Rossi
(Suzan Crowley) confessing that she had brutally killed three people. 20 years later, her daughter Isabella (Fernanda Andrade) seeks to understand the truth about what happened that night. She travels to the Centrino Hospital for the Criminally Insane in Italy where her mother has been locked away to determine if her mother is mentally ill or demonically possessed. When she recruits two young exorcists (Simon Quarterman and Evan Helmuth) to cure her mom using unconventional methods combining both science and religion, they come face-to-face with pure evil in the form of four powerful demons possessing Maria.
Many have been possessed by one; only one has been possessed by many.
THE DEVIL INSIDE is directed by William Brent Bell and stars Fernanda Andrade, Simon Quarterman, Evan Helmuth and Suzan Crowley.
Take a look at some of the clips above as well as our photo gallery below.
[nggallery id=85]
With The Devil Inside in UK cinemas nationwide today, we thought we'd take a look at some of cinemas popular exorcism films.
[youtube]https://www.youtube.com/watch?v=yN9hY16Yg9M[/youtube]
The Last Exorcism
Directed by Daniel Stamm and produced by Hostel's Eli Roth, The Last Exorcism follows a preacher who's lack of faith in what he does prompts him to hire a film crew to document how the church exploits suffering individuals who believe they are possessed. In order to prove the theory that he is nothing more than a con merchant, he must do one last 'exorcism' to demonstrate the methods in which the Reverends use to trick the victims into believing they are cured. However, they are in for a shock when the final exorcism is more than they had bargained for. The Last Exorcism is a modern gem of the exorcism genre with one hell of an ending. Watch out for the actress playing possessed girl Nell, who was partly hired for the role due to her double-jointed flexibility and contortionist skills.
Read the full review The Last Exorcism review
[youtube]https://www.youtube.com/watch?v=Jmp2ympKIg8[/youtube]
Exorcismus
From the producers of Spanish zombie flick [Rec], Exorcismus explores a 15 year old girl named Emma who dabbles with a ouija board which, among other events, cause the teenager to enter a downwards spiral including self harming and attempting to kill her younger sibling. Unlike many other exorcism movies made recently, Exorcismus shows Emma before her possession and afterwards with a realistic, subtle backdrop that many of us can relate. Set on a housing estate within a loving family home, rather than an elaborate, alien environment is what draws the viewer in. Whilst not groundbreaking in any way, it certainly is worth a watch. Read the full Exorcismus review.
[youtube]https://www.youtube.com/watch?v=_hG3ktopqv8[/youtube]
The Rite
Starring Anthony Hopkins as priest who's a master exorcist, The Rite takes a more serious, realistic tone rather than resorting to the spinning heads we are used to from other films. Anthony Hopkins takes a young priest under his wing in a bid to educate and cure him of his skepticism of  demonic possession. Rather than resorting to violence, The Rite stirs it's fear in the audience using a well told story, which is quite novel in todays filmmaking world. A deeply disturbing horror thriller. Read the full The Rite review
[youtube]https://www.youtube.com/watch?v=YDGw1MTEe9k[/youtube]
The Exorcist
The exorcism film that started it all. Adapted from William Peter Blatty's book, The Exorcist was removed shortly after release and various churches  vocally protested against it being screened in cinemas. The film had it all: spinning heads, crucifix masturbation, profanity, projectile vomit and a body floating up to the ceiling. All this made more shocking by being 'acted out' by a child. With an impressive theatrical version and a deeply disturbing, utterly terrifying directors cut, The Exorcist is a staple film in any horror  enthusiasts collection.
Which are your favourite exorcism films? Leave a comment below.