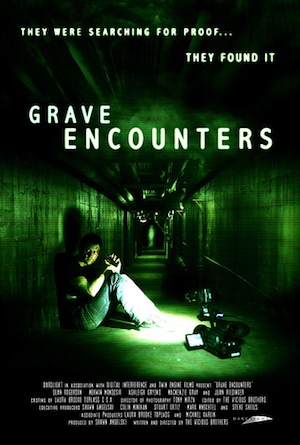 GRIMM UP NORTH brings you a Double Bill of Sublime Supernatural terror this Friday 13th April 2012 at the Anthony Burgess Foundation, Manchester.
Sponsored by Metrodome Pictures,  GRAVE ENCOUNTERS and SEANCE: THE SUMMONING will be presented on the big screen before official UK releases. They're guaranteed to scare you shitless!
GRAVE ENCOUNTERS: The crew of "Grave Encounters", a ghost-hunting reality television show, are shooting an episode inside the abandoned Collingwood Psychiatric Hospital, where unexplained phenomena has been reported for years.They soon begin to question their own sanity, slipping deeper and deeper into the depths of madness, ultimately discovering the truth behind the hospital's dark past…
Seance: The Summoning: From the producer of Hellraiser comes a summoning like no other. Four college kids video themselves holding a séance in the city morgue and summon a demon that unleashes a nightmare from which there is no escape.
Tickets for the event are £6.50 (plus booking fee) and it starts at 7.30pm on Friday 13th April 2012 at The Anthony Burgess Foundation, 3 Cambridge Street, Manchester. For more info and to purchase tickets, visit www.grimmfest.com