Headhunters (2012)
Directed by: Morten Tyldum
Written by: Jo Nesbo
Starring: Aksel Hennie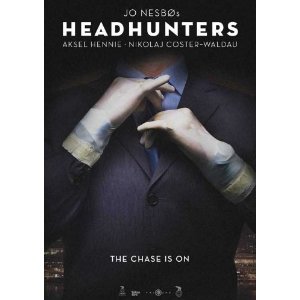 [youtube]https://www.youtube.com/watch?v=5am704I0zkM[/youtube]
Headhunters (2012)
(15) Running time: 100 mins
Director: Morten Tyldum 
Writers: Jo Nesbo
Starring: Aksel Hennie, Synnove Macody Lund, Nikolaj Caster-Waldau
Reviewed by: David Gillespie, official HCF artist
Headhunters is a complex and gleefully twisted variation on the Droopy cartoon. The main character attempts to escape his canine pursuer but no matter where he hides and what extreme measures he will go to in hiding his identity, Droopy always finds him.  Fortunately this is only part of the fun. Jo Nesbo's dangles more than a few red herrings throughout his ingenius thriller. Hollywood have also sat up and taken notice of the author's work. It won't be long before we see the Martin Scorsese version appearing on a big screen near you. If it is half the movie that Morten Tyldum has delivered then we are in for a right royal treat.
 Aksel Hennie plays the corrupt, arrogant and insecure headhunter, Roger Brown.  His company targets rich and successful candidates for top positions at huge global businesses.  This is just a cover for the more lucrative and criminal pursuit of art thief. His victims are unaware that as he interviews them regards their personal details, he is conducting a profile on what artwork they have and the security devices they have within their property.  He explains to the viewer that he needs this additional source of funds to keep his beautiful wife, Diana ( Synnove Macody Lund) in the lifestyle that she is accustomed to. Roger is struggling for cash and is searching for one big job that will allow him to retire for good. The opportunity arrives in the form of Clas Greve ( Nikolaj Caster-Waldau), a good looking and confident director of a high-tech GPS company. Roger discovers that Clas is the owner of an extremely expensive piece of art and on a more sinister level, was a military mercenary in years gone by.  Once the theft takes place, the action hits top gear with more twists and turns than a bowl of spaghetti.  This is where my synopsis of Headhunters ends. To reveal any more of the plot would undoubtedly spoil the fun for anyone who is unfamiliar with Nesbo's grisly and darkly funny tale.
The beauty of the cinema is that just when you think things are becomming stale and cliched, a film like Headhunters arrives and reminds you of just why you love visiting the local hall or multiplex. The story is clever (the uncoventional airbag), the dialogue smart, the setpieces are exciting (a very original carchase) and the acting is first class.
Aksel Hennie, resembling crooked Glasgow Ranger's owner Craig Whyte, is outstanding as the selfish and resourceful thief . He is a horrible character that is willing to go to any lengths to achieve his goals. Aksel injects enough charm and energy into the role to almost make his unspeakable acts forgivable. Try and watch his final heart to heart with his wife and not be moved. Nikolaj Caster-Waldau is the perfect choice to play the cold and charming Clay. Although he always appears to have the upper hand with his opponent, he realises he may have underestimated his prey's will to live.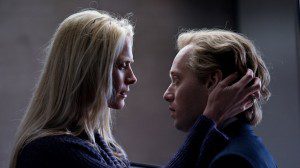 The action scenes are shocking, very violent and hilarious all at the same time. Tyldum cleverly keeps the pace at a pedestrian stroll in the first half and shifts into turbo gear for the frantic and grisly second act. I was surprised to see that the movie was granted a 15 certification. Not only is the violence as extreme as you will see but there is a good quantity of nudity and sex on display.
Headhunters will take a lot of beating to be toppled as my film of the year. I'll stick my neck out and say it will be my favourite film of 2012. Rarely have I left the cinema with such a willingness to sit back down and watch it all over again. 
Rating: