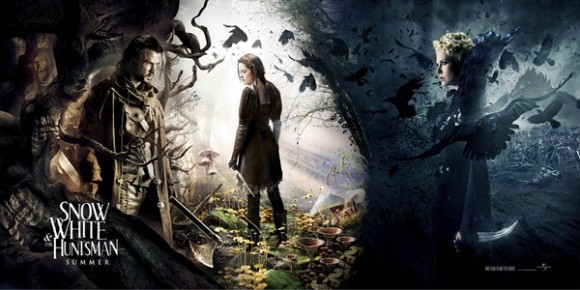 It is safe to say that I am now fully convinced that director Rupert Sanders' Snow White and the Huntsman is going to be pretty impressive. However, choosing to release it on the same day as Prometheus means that this will have to wait. Prometheus comes first, but I will no doubt be seeing this effects heavy film in the cinema also. Today we have found a new international trailer and a new TV spot, and both continue to show off the films quality. Check them both out after the following information.
Rupert Sanders directs from a script penned by Hossein Amini and supporting Kristen Stewart will be Chris Hemsworth, Charlize Theron, Ray Winstone, Toby Jones, Ian McShane, Nick Forst, Bob Hoskings, Sam Claflin, Lilly Cole, Eddie Marsan and Vincent Regan, a mighty fine cast indeed! Snow White and the Huntsman arrives in UK cinemas 1st June.
Check out our previous stories here
In the epic action-adventure Snow White and the Huntsman, Kristen Stewart (Twilight) plays the only person in the land fairer than the evil queen (Oscar(r) winner Charlize Theron) out to destroy her. But what the wicked ruler never imagined is that the young woman threatening her reign has been training in the art of war with a huntsman (Chris Hemsworth, Thor) dispatched to kill her. Sam Claflin (Pirates of the Caribbean: On Stranger Tides) joins the cast as the prince long enchanted by Snow White's beauty and power.
By Matt Wavish