Cosmopolis (2012)
Directed by: David Cronenberg
Written by: Don DeLillo
Starring: Juliette Binoche, Kevin Durand, Paul Giamatti, Robert Pattinson, Samantha Morton, Sarah Gadon

[youtube]https://www.youtube.com/watch?v=dS9jc3BnLRc[/youtube]
Running Time: 108 mins
Rating: 15
Reviewed by: David Gillespie – Official HCF Artist
 The great Canadian master of body horror and mind bending drama, David Cronenberg returns with the screen version of Don DeLillo's Cosmopolis.  Following the day in the life of a Billionnaire asset manager, Cronenberg  explores the breakdown of the mind as in his last project, A Dangerous Method. He also recruits young and fashionable British thespian, Robert Pattinson to take centre stage, as he did with Keira Knightley in the Carl Jung and Sigmund Freud opus.
Robert Pattinson plays Eric Packer, a 28 year old Billionnaire who decides to venture across the city centre of Manhattan for a haircut. His limo rolls along at snails pace admist the preparations surrounding the president of the USA's visit and the funeral of a respected hip-hop artist. During the trip he deliberates the reasons for his empire's financial downfall and why he does not seem to have any desire or drive left in his life. His bodyguard (Kevin Durand) warns him that they should turn back primarily due to threats being made on his employer's life by an unknown assailant.
During the course of the afternoon, Packer indulges in sexual conquests with art consultant (Juliette Binoche) and a female bodyguard (Patricia Mckenzie) even though he has only just married a rich but frigid young woman (Sarah Gadon). He also meets with some key employees within his firm, Shiner (Jay Baruchel), Michael Chin (Philip Nozuka) and Vija Kinsky (Samantha Morton) and comes up against some rather angry activists. As the day progresses, Packer falls further into the realms of self destruction and the grim realisation emerges that by having achieved so much and indulging in so many excesses at such a young age,  nothing appears to offer him any challenge or excitement in his life.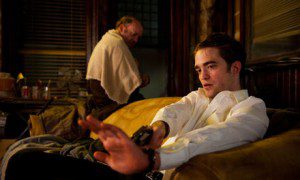 David Cronenberg was once an exciting and innovative director that never failed in delivering the goods when it came to a new project. Since the release of Russian gangster drama, Eastern Promises in 2007 there seems to have been a dip in form. Not that any of the proceeding releases were poor but just that they didn't seem to have the spark and energy that his earlier movies had.
Similar to one of Eric Packer's charts, Cosmpolis continues this underwhelming run of form. On a plus side, the feature looks and sounds fantastic with a subtle but impressive score. Robert Pattinson nails the role of the tortured billionnaire with aplomb and the supporting cast or cameo roles are all solid if unremarkable. The main problem with bringing a book like Cosmopolis to the big screen is viewer involvement. Most of the film is set in a limo. This is fine as long as there is enough interest to hold the viewer's attention for this space of time. Yet there is not. Most of the conversations are nothing more than self-indulgent ramblings and eccentric waffling that don't seem to make much sense at the best of times. The monotony of the main protagonist's journey seems to amplify onto the big screen with one of the biggest walkouts that I have experienced at a cinema hall for some time. By the time Packer is shooting people and himself, most viewers will be thinking towards Cronenberg's next feature and whether he'll be dazzling us with the originality and excitement of his earlier work.
 Rating: