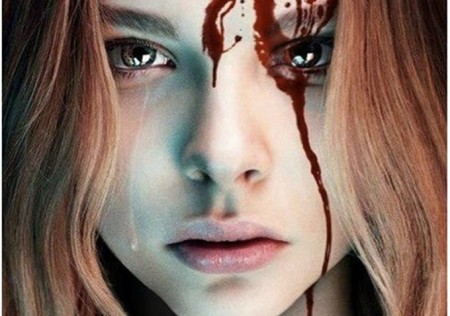 Director Kimberly Peirce's (Boys Don't Cry) Carrie remake has now begun production, and the first image has been released of star Chloe Grace Moretz in the title role. The image shows Moretz in costume, however her hair colour has yet to be confirmed so take this image as her costume design only. Moretz recently spoke with Vanity Fair where she discussed her role in Carrie:
"I'm not watching it (1976 Carrie) in preparation for the movie because we're doing something totally different and I'm trying to bring my own take into it. I am changing everything about me—my hair, my look. I'm doing my own take on [the character]. The script is totally different from the [original]. It's more like the book. It's a more Black Swan version—it messes with your mind. You'll see things, and you don't know if you've seen them."
I like the sound of that! A recent press release provided more details on the film, and revealed a lengthier official synopsis, read on:
Principal photography has commenced in Toronto, Ontario, on the highly anticipated horror film CARRIE, it was announced today by Metro-Goldwyn-Mayer (MGM) and Screen Gems. Director Kimberly Peirce (Boys Don't Cry; Stop-Loss) reimagines Stephen King's best-selling novel for MGM and Screen Gems' take on the enduring genre classic. Starring Chloë Grace Moretz (Hugo), four time Oscar-nominee Julianne Moore (Crazy, Stupid, Love; The Kids are Alright) and Judy Greer (The Descendants), CARRIE tells the supernatural tale of a telekinetic teenage girl tormented by her peers. CARRIE is slated for a 2013 theatrical release.
The quiet suburb of Chamberlain, Maine, is home to the deeply religious and conservative Margaret White (Moore) and her daughter, Carrie (Moretz). Carrie is a sweet but meek outcast whom Margaret has sheltered from society. Gym teacher Miss Desjardin (Greer) tries in vain to protect Carrie from local mean girls led by the popular and haughty Chris Hargenson (Portia Doubleday, Youth in Revolt), but only Chris' best friend, Sue Snell (Gabriella Wilde, The Three Musketeers), regrets their actions. In an effort to make amends, Sue asks her boyfriend, high school heartthrob Tommy Ross (newcomer Ansel Elgort), to take Carrie to prom. Pushed to the limit by her peers at the dance, Carrie unleashes telekinetic havoc. Brian De Palma's 1976 film version of CARRIE earned Oscar nominations for stars Sissy Spacek and Piper Laurie.
MGM and Screen Gems' CARRIE is directed by Kimberly Peirce and produced by Kevin Misher (Public Enemies). J. Miles Dale (The Vow) serves as executive producer, and Roberto Aguirre-Sacasa (Big Love) wrote the script from King's original story. CARRIE's creative team includes Director of Photography Steve Yedlin (Looper), Production Designer Carol Spier (Eastern Promises), Costume Designer Luis Sequeira (The Thing) and Editor Lee Percy (Boys Don't Cry).
By Matt Wavish