Written by: Stef Hutchinson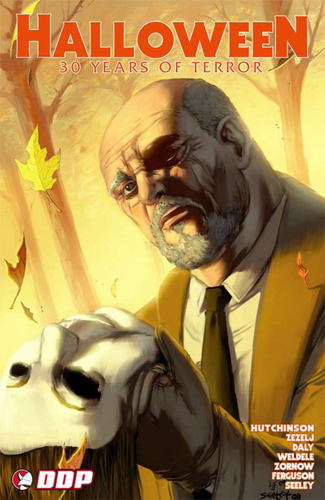 Halloween: 30 Years of Terror
Written by Stefan Hutchinson
Artwork by Danijel Zezelj,  Jim Daly, Brett Weldele, Jeffrey Zornow, Lee Ferguson and Tim Seeley
On Halloween night, 1963, six year old Michael Myers murdered his sister and was incarcerated in Smith's Grove asylum. On October 31st, 1978, Michael escaped and returned to his hometown of Haddonfield, Illinois, where he committed the most brutal mass-slaughter on record and then vanished into the autumn night.
Laurie Strode, Tommy Doyle and Dr Sam Loomis were three people whose lives were irrevocably changed by the events that happened that night. This is the story of what happened next.
Fans of Halloween everywhere need to get their mitts on Stef Hutchinson's series of Halloween comics which pick up where John Carpenter's Halloween left off. In my eyes, Michael Myers was never the same after the first film so this comic series is the perfect outlet for Michael to retain the mystery and Bogeyman image he once had.
Halloween: 30 years of Terror consists of 5 stories spread over 48 pages, each written by Stef Hutchinson but illustrated and coloured by different artists.
The first strip, Trick or Treat, is illustrated by Danijel Zezelj and coloured by Nick Bell. Trick or Treat picks up from the end of the movie where Laurie tells Tommy and Lyndsey to run to the MacKenzies to phone the police. My first venture into the comic book world of Halloween was when I first laid eyes upon this dark, silhoutted strip and it charmed me with it's disturbed, engaging story and imagery. This is no comic book for your Beano-loving kids. This is definitely an adult read with some dark, frightening and even gory content. Trick or Treat is a subtle piece with a sharp delivery that will make you sit up straight and think "Wow, this is what I'm getting myself into". Be prepared as the psychotic madman is only just getting started.
The second strip, P.O.V, is based upon a beauty pagant and unlike the other strips it contains no lettering whatsoever. However the artist Jim Daly, aided by colourist Rob Ruffalo, creates magnificent tension through his artwork which is seen through both the eyes of Michael and his victim.
Visiting Hours, illustrated by Brett Weldele, has Laurie reflecting on how life could have been had she never been found by Michael Myers in 1978.
My favourite of the stories, Tommy and the Boogeyman, or Tommy's Web as it should have been known, features a familiar character from John Carpenter's film that we had the misfortune of never meeting: Tarantula Man. As soon as I cast my eyes upon the comic within the comic, my inner nerd screamed with joy. We finally get the chance to see what the infamous Tarantula Man comic was all about. The story does not disappoint and will have you mesmorised at it's warped, panty-sniffing debauchery which will make you wonder: "do I really want to know about Laser Man and Neutron Man?!".
The final strip Repetition Compulsion is the goriest of the lot. Drawn by Tim Seeley and coloured by Elizabeth John, the story follows Dr Sam Loomis who, after 11 years, is still on the hunt for his elusive patient. It may have been years but Michael's bloodlust hasn't relented and Dr Loomis must stop him before he claims his next victim.
These comics are a twisted extension upon the world which involves Michael Myers and for anyone who wasn't entirely thrilled with the sequels to John Carpenter and Debra Hill's story will be impressed by the narrative conjured up in this comic. 30 Years of Terror is my stepping stone into this frightening world where the shadow slaughters his way through not only the comic, but my mind. A must for all Halloween and horror fans.
Take a sneak peek of the comic here