Hell (2011)
Directed by: Tim Fehlbaum
Written by: Oliver Kahl, Tim Fehlbaum
Starring: Angela Winkler, Hannah Herzsprung, Lars Eidinger, Lisa Vicari, Stipe Erceg

Hell (2011)
(15) Running time: 90 minutes
Director: Tim Fehlbaum
Writers: Tim Fehlbaum, Oliver Kahl
Starring: Hannah Herzsprung, Stipe Erceg, Angela Winkler
Reviewed by; Matt Wavish, official HCF critic
An interesting fact about this film's title: The German word for Hell, when translated into English, means 'bright' and gives a far better indication as to what to expect here. Yes, the characters do go through their own sort of Hell, but the word 'bright' explains the film a lot more. Hell is an apocalyptic thriller with some tasty horror elements, and the end of the world has been brought on by the blistering Sun. The world as we know it has come to an end and the Sun, one of the many wonders of nature which fuels life, has taken life away. The world has become desert like, with survivors having to wear protective goggles and scarf's from the Sun's powerful and painful rays: cars have their windows plastered with newspapers to block out the heat, everything is covered with dust, hardly anything survives and there is barely any water, let alone fuel. Welcome to Germany in the not too distant future, and things are very bleak.
We are literally thrown into the thick of it as we meet Marie (Herzsprung) and her younger sister Leonie (Lisa Vicari) and their 'driver' of sorts, Philip (Lars Eidinger) The sisters have hitched a ride with the stranger in order to find a better place to live, somewhere where there is water, food and hope for humanity. Does this place exist? All three believe so, and it is their desperation which leads them on a dangerous path. They stop at a gas station, steal supplies and eventually meet the mysterious Tom (Erceg), a man also desperate for salvation, but he has no transport and is happier trading petrol for peaches. The solar storms have destroyed life as we know it, and the director masterfully creates this weird, paranoid wasteland in a way that allows us, the viewer, to become completely immersed. Music is kept to a bare minimum in order for us to 'get involved' with the cast, the conversations, the sounds of the desolate land and this method of directing really works. I was able to make a connection with the characters right from the get go, and this is always a good thing!
The setting is terrific too, with a superb colour scheme which uses painfully bright yellows, whites and other sun-kissed colours to make the viewer almost feel the heat. The use of a countryside setting rather than a city also makes for a compelling, and downbeat atmosphere which brings on a real sense of things gone wrong like recent apocalyptic films like Stake Land and The Road. If the apocalypse and all that comes with it is your thing, then you can't go too far wrong with Hell. Incredibly, this is Fehlbaum's first feature length film after a number of short films, and I predict big things for him on the strength of this. Yes he did have Roland Emmerich (Independence Day, The Day After Tomorrow) on hand to executive produce, but this is clearly Fehlbaum's show. This film is a calm, slow moving and often chilling tale of survival against the odds, a far cry from Emmerich's big budget destruction of the world, and Hell is all the more better for it.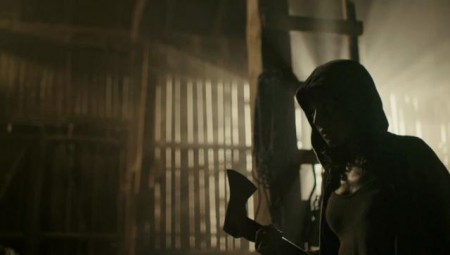 Here abandoned train tracks and empty tunnels create a sense of unease and uncomfortable paranoia, while characters look judgingly at each other, wary of the other person's motives. Expert camera work see's less of the usual frantic shaky cam and more of the camera holding back, looking on at its characters from a distance in order to get in as much of the beautiful, yet haunting surroundings as possible. The film creates a superb otherworldly feel, while maintaining a sense of realism which thankfully keeps things very believable. After the group begin to work together, however, things take a nasty turn which see's the film come close to bordering on films like Hostel, but thankfully things never really go that far.
A farm becomes the setting for the second half of the film, and it is here the film goes down a slightly different, but interesting route for this type of film. I would not generally regard this film as a horror, but it certainly offers plenty of reasons to include it in the horror genre. The farm is empty, nothing is growing and again people living there are also looking for a way to survive, just like our new friends on the road to something better. The film cleverly raises the question: what would you do to survive, and in the grand scheme of things, what really is right or wrong when it comes to your own survival. Hell doesn't judge, it doesn't point the finger at who is the bad guy and who is the heroin; it simply lays out some characters and situations which we all hope will never happen to us, and from the comfort of our own home, we can make our own decision as to which path we would chose.
Hell is by far not a perfect film: it does drag on a bit in places, the focus on atmosphere often dilutes the desperate need for some action, but for a first full length film the director should be very proud of what he has achieved. Fehlbaum interestingly avoids the temptation to become too clichéd, and Hell delivers something original and thought provoking. It is certainly not a crowd pleaser, and the abrupt end will probably irritate those who have bought into the idea, however there is talent here and I can only see much bigger and better things in the future for Fehlbaum. An impressive, provocative and often chilling piece of work which blends genres and creates something entirely new. Powerful, thought provoking stuff.
Rating: