Car Cemetery (1983)
Directed by: Fernando Arrabal
Written by: Feranando Arrabal
Starring: Alain Bashung, Juliet Burto, Micha Bayard, Roland Amstutz

After looking at his children's film The Emperor Of Peru, we return to Fernando Arrabal at his outlandish, daring best in what may be his most audacious work.
HCF REWIND NO.69. CAR CEMETERY AKA LE CIMETIERE DES VOITURES  [France, 1983]

AVAILABLE ON DVD: from Cult Epics
RUNNING TIME: 90 mins
REVIEWED BY: Dr Lenera, Official HCF Critic
In a post apocalyptic junkyard called Babylon, people take refuge from authority and are able to practice their fantasies and fetishes without being stopped by the police.  Two of these folk are prostitute Dila and her dominant and constantly stressed husband  Milo.  In the camp, Emanou, a Christ-like figure, promises music rather than salvation and is planning to stage a concert forbidden by the authorities.  Nearby, two policemen are waiting to hear back from a mole within Emanou's camp in order to coordinate an arrest, ending his determination to form a world of peace and zero violence……..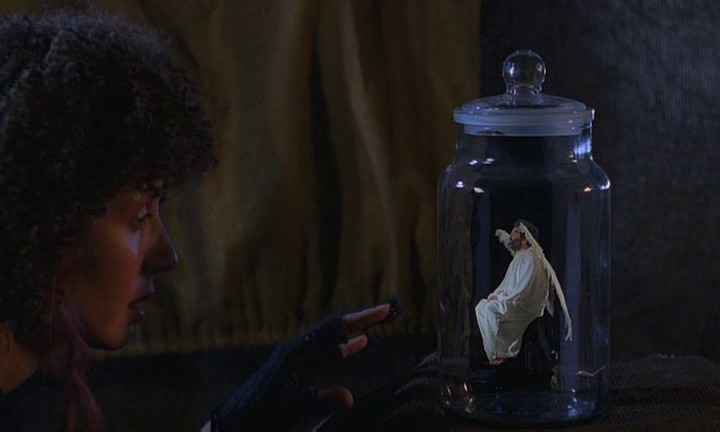 The  story of Jesus Christ has had many different interpretations on films, from the heavy-going, reverential approach of old Hollywood epics like The Greatest Story Ever Told and King Of Kings to the more realistic, down-to-earth style of productions from other quarters such as The Gospel According To St Matthew and the TV Jesus Of Nazareth.  Then there's the oddball adaptations which turn up once in a while.  Jesus Christ Superstar, which is currently in the public eye due to one of those awful TV talent shows, is certainly a very bizarre effort on screen with its deliberate anachronisms and 'hippie' aura mixed with deep emotion.  Car Cemetery will seem a very peculiar version to some, but it isn't really that far from the Andrew Lloyd Webber-derived film in many respects, though of course this is Fernando Arrabal, so you're have somewhat less respect and lots of absudist satire and rudeness!
Make no mistake, this is Arrabal back to his dangerous and extreme mode after briefly entering [and rather successfully too] the world of the children's movie with The Emperor Of Peru, and yet it is quite different in look and feel to his earlier surreal classics.  This is in part because it's actually an adaptation of a play that Arrabal wrote in 1958, a play that is occasionally revived.  I distinctly remember, a few years ago, reading a review of a really odd and daring play that had been on in London, a play that was a transposition of the story of Jesus.   After watching the first few minutes of Car Cemetery, I didn't need to go and check on the internet to see if it is was same!   What I find most incredible is that Car Cemetery was actually made for French TV.  With its raunchy sexual behaviour and often profane dialogue that satirizes politics, sexuality, and religion with no hesitation, there is no way that British TV would have allowed it to be shown in the 80's.  Maybe French TV was less strict.
Car Cemetery does feel like a stage play at times, but in no way feels restricted by this and looks very slick throughout in a way similar to other French films of the time like Diva. The main setting, a  car junkyard next to a bomb crater, is almost poetic in its metaphoric absurdity, a perfect location for the outcasts of society to practice whatever 'deviant' practises they want to.  The general approach is of a Punk nature, though the crazy costumes [one person wears an elephant mask throughout] often go beyond that.  In any case, the anarchic feel of the piece is infectious, and there are some great camera moments where we slowly travel around Babylon and see people performing various sexual practises.  These are only shown briefly and actually suggest more than they show but may still be too much for some!  Arrabal seems to be celebrating sexual freedom and indeed we really like all these people except the rather cruel Milo and the person who is the equivalent of Judas.  Though not quite as surreal as you may expect, weird touches abound such as the tiny bearded angel kept in a glass enclosure, and many flashbacks help keep viewers on their toes and the pace moving in this very tight film.
The actual plot proceeds along the lines one would expect, with various characters from the gospels given equivalents and incidents re-enacted with a twist.  Some of the miracles are shown, often in a matter-of-fact way, and Emanou even spouts lines taken straight from the Bible and either translated exactly or given slight variation.  Though done for a reason, this smacks of laziness for me; I would have found it easier to totally accept the transplanting of the Jesus story to this milieu if Enamou's words didn't stand out so much.  They seem too antiquated, unless of course that is the point?  In any case, though is much illustration of the inconsistency of Christianity [a favourite theme of Arrabal's], the writer/director does seem to display some sincerity at times in his handling of the tale.  Arrabal's wit and sense of the ridiculous is never absent, but it all ends up being a bit touching.  In attempting to see how well the story holds up when altered considerably, he shows us that it does, even if you're not a Christian [and I certainly am not].
Emanou's journey, which ends a little earlier than you may expect, is mirrored by that of the whore Dila's, who at various times plays the roles of hooker, matron, a performer in a club dressed up as a mermaid, bullied victim, faith-healer and religious disciple.  At times though Car Cemetery really 'lightens' up and focuses on the two hilarious cop figures who are after Enamou, from the male cop having to constantly do exercises like running in circles round the female cop with a rope around his chest, to the two engaging in a marathon fornication session with dialogue which is both very funny, explicitly raunchy and absurdly poetic. I don't think you have to be knowledgeable [and let's face it, less and less people are these days] about Jesus Christ to find the movie pretty entertaining on some level.   Of course it's Arrabal, and therefore not for all tastes, but I find it strange that such a distinctive work was almost lost to the public until Cult Epics exhumed it.
The acting is not a strong point of the movie,with French pop star Alain Bashung not really up to the task of Emanour, though he went on to appear in many later films.  His music for Car Cemetery though is something else, often taking the form of fragments of songs, his almost unearthly vocals and the steady rhythms creating a weird feeling somewhere betweeen being in a trance and somewhat dislocated.  Indeed, the word 'dislocation' is one that perhaps best describes Car Cemetery, and I don't mean that in a bad way.  There's something about it that feels wrong, but something about it that feels totally right too.  If a person from a totally different culture or even time read about Jesus just once and then decided to make a film about him, it'll probably be like Car Cemetery, a film which also reveals Arrabal's contradictory feelings about religion more than any other of his films.
Rating:
The DVD release of Car Cemetery from Cult Epics includes:
*New High Definition Transfer
It is also available as part of
Check out Cult Epics's site at
Review of Arrabal's final film Farewell Babylon coming soon…….