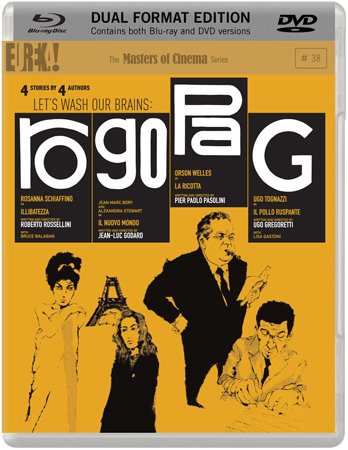 RoGoPaG is to be released in the UK in a Dual Format (DVD & Blu-ray) edition as part of Eureka Entertainment's MASTERS OF CINEMA Series on 27 August 2012.
Long-awaited Dual Format (Blu-ray + DVD) edition of this renowned '60s "anthology film", available for the very first time anywhere in the world on Blu-ray, in a beautiful new restoration. It consists of four separate episodes, each directed by a major director in the annals of film: Roberto Rossellini (Rome: Open City; Francesco giullare di Dio; Voyage to Italy), Jean-Luc Godard (Breathless; Vivre sa vie; Pierrot le fou; the recent Film Socialisme), Pier Paolo Pasolini (Accattone; The Gospel According to Matthew; Salò, or The 120 Days of Sodom), and Ugo Gregoretti (Omicron; Le belle famiglie; Maggio musicale). It is released uncut in this edition, but suppressed and censored in Italy at the time of its initial release. Director Pier Paolo Pasolini, whose episode stars the legendary Orson Welles, was sentenced to a suspended four-month prison term for "defamation of the state religion".
Conceived by the legendary Italian producer Alfredo Bini, the multi-director portmanteau film Let's Wash Our Brains: RoGoPaG [Laviamoci il cervello: RoGoPaG] brought together four giants of European cinema to contribute comic episodes reflective of the swinging post-"boom" era. The resulting omnibus collectively examines social anxieties around sex, nuclear war, religion, urbanisation – and the promise of a modern cinema.
Roberto Rossellini's Illibatezza [Virginity] follows an airline stewardess plagued by an obsessed American tourist whose 8mm camera enables the indulgence of a personal, and solipsistic, vision of the Ideal. Jean-Luc Godard's Il nuovo mondo [The New World] takes place in an Italian-dubbed Paris beset by nuclear fallout, and wittily chronicles the changes that take place in the lives – and medicine cabinet – of a handsome young couple. Pier Paolo Pasolini's scandalous La ricotta [Ricotta, as in the curded cheese] presents the goings-on around a film shoot devoted to the Crucifixion and presided over by none other than Orson Welles (playing a kind of stand-in for Pasolini himself); it is this episode that landed Pasolini with a suspended four-month prison sentence. Lastly, Ugo Gregoretti's Il pollo ruspante [Free-Range Chicken] depicts a middle-class Milanese family flirting with the purchase of real-estate and engaging catastrophically with an antagonistic consumerist infrastructure.
Let's Wash Our Brains: RoGoPaG remains one of the definitive entries of the Sixties vogue for the multi-auteur anthology film, and The Masters of Cinema Series is proud to present it for the very first time anywhere in the world on Blu-ray, in a Dual Format (Blu-ray + DVD) edition, released on 27 August 2012. (DVD edition also available!)