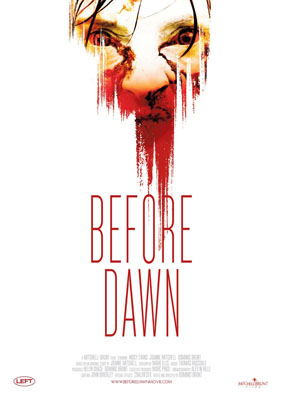 Grimm Up North have announced the fifth feature film for their 4-7th October international film festival, which is to be held at The Dancehouse, Oxford Street, Manchester. The film in questions is a brilliant new Zombie movie from the north of the UK, directed by and starring Dominic Brunt (Paddy from Emmerdale) along with Joanne Mitchell and Nicky Evans (Shameless). Grimm are proud to host the Northern Premiere of BEFORE DAWN.
A weekend away. An Idyllic cottage nestled within the rolling hills of the English Dales. What starts off as a gripping psychological drama between a struggling married couple, suddenly descends into a shocking gruesome nightmare. As panic and confussion sets in, Alex and meg have to confront the fears within themselves and face a desperate fight for survival against a bloody terror which could literally tear them apart forever.
The team have revealed that stars Dominic Brunt, Joanne Mitchell and Nicky Evans will be attending the special screening alongside Exec producer Marc Price (Director of recent low budget zombie hit COLIN).
The Grimm team haven't stopped there. They've also announced that they will be showcasing short film, HIM INDOORS.
Gregory Brewster is a serial killer, only problem is, he's agoraphobic! Facing an impending eviction from his family home, Gregory has a plan that will save him from being subjected to the one thing he's terrified of… the outside world. Things don't quite go to plan however, when a surprise visit from his new neighbor finds him in a very awkward situation. Starring Reece Shearsmith (The league of Gentlemen) & Pollyanna McIntosh (The Woman).
Members of the cast and crew will be attending this Northern Premiere and they hope to have both Reece and Pollyanna along side director, Paul Davis and producer James Pears.
There are some Early Bird discounted weekend tickets still available on the Grimmfest website, so act fast to secure your place.
Before Dawn and Him Indoors join Nightbreed: The Cabal Cut, Basketcase, Attack of the Werewolves, Before Zero and The Other Side as films screening at the festival.
Stay tuned for more films to be announced.