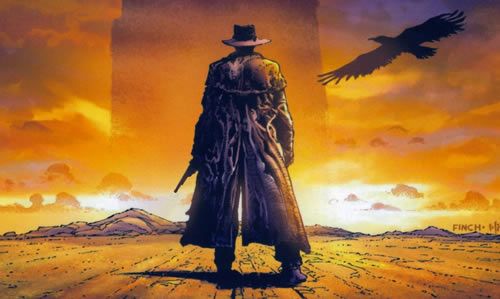 The massive adaptation of Stephen King's western, The Dark Tower, has been a bit all over the place since the idea was announced some time ago. Director Ron Howard and producer Brian Grazer have been behind the project since day one, and when Universal dropped out because the movie was just too big and too expensive, Howard and Grazer said they would get the film made, whatever it took.
Thankfully it took a small amount of time for Warner Brothers to step in and save the day, and now talks are finally moving forward to hopefully get the film green-lit. According to Deadline:   Warner Bros is getting a new script from Akiva Goldsman for the first installment of Stephen King's mammoth Western The Dark Tower, and that within two weeks, the studio will be making a decision on whether to green light the first leg of one of the most daring and ambitious projects to come along since The Lord Of The Rings.
However, there is now a new twist in the tale, that of the films star. Originally Javier Bardem had been cast in the role of  Deschain, the gunslinger  who is "the last living member of a knightly order of gunslingers, with Deschain becoming humanity's last hope to save civilization as he hits the road to find the Dark Tower. Along the way, he encounters characters, good and bad, in a world that has an Old West feel."
Now though it would appear that Ron Howard and Brian Grazer, who both worked on A Beautiful Mind, are looking at casting the star of that film as Deschain instead of Bardem. Russell Crowe is that man, and when Warners sit down to go over the script and make a decision on the film, it will be Crowe they will be looking at as the star.
The Dark Tower is a huge project, with Stephen King himself planning to be involved if it all goes ahead. So far the plan is for three feature length films, and also a mini TV series which at the moment is going to be handled by HBO.
So, thoughts on Crowe replacing Bardem? I think I need convincing, although Crowe has certainly been taking on some different and challenging roles of late: Noah, The Man With the Iron Fists and Man of Steel.
(Source: Deadline)
By Matt Wavish