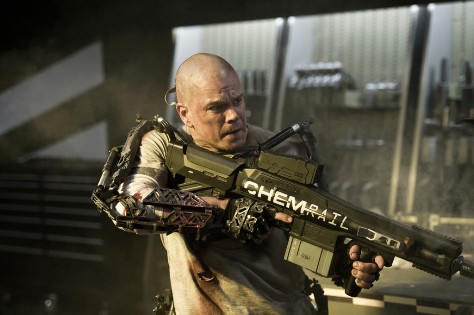 I am expecting new on Neill Blomkamp's first film since District 9, Elysium, to start picking up soon as the release date of March 1st 2013 is getting ever closer. So far all we have really seen is some rather cool Comic-Con images, a very brief teaser trailer and an image of a very bald Matt Damon brandishing a very big gun. Just how big that gun was we did not know because that first image did not have the full size of the weapon in the image.
However, a new image (above) of the same picture has now gone on-line, and this time we get to see the full, menacing image of the big bastard gun called a 'Chemrail', an alien vaporizing weapon that clearly needs someone like Damon to be able to hold the damn thing up!  In a recent interview with Empire, Damon had this to say about his new toy in Elysium: "Neill and the guys at Weta came up with some really gnarly weapons that don't exist in our world," he explained. "This one looks like some horrible weapon someone's going to invent one day. My character is dying. He wants to get [to Elysium] because they have health care."
Written and directed by Neill Blomkamp, Elysium stars Matt Damon, Jodie Foster, Sharlto Copley, William Fichtner, Michael Shanks and Alice Braga.
Synopsis:
In the year 2159 two classes of people exist: the very wealthy who live on a pristine man-made space station called Elysium, and the rest, who live on an overpopulated, ruined Earth. Secretary Rhodes, a government official, will stop at nothing to enforce anti-immigration laws and preserve the luxurious lifestyle of the citizens of Elysium. That doesn't stop the people of Earth from trying to get in, by any means they can. When unlucky Max is backed into a corner, he agrees to take on a daunting mission that if successful will not only save his life, but could bring equality to these polarized worlds.
By Matt Wavish