Anna Karenina (2012)
Directed by: Joe Wright
Written by: Tom Stoppard
Starring: Aaron Taylor-Johnson, Jude Law, Keira Knightley, Kelly Macdonald

IN CINEMAS NOW
RUNNING TIME: 130 mins
REVIEWED BY: Dr Lenera, Official HCF Critic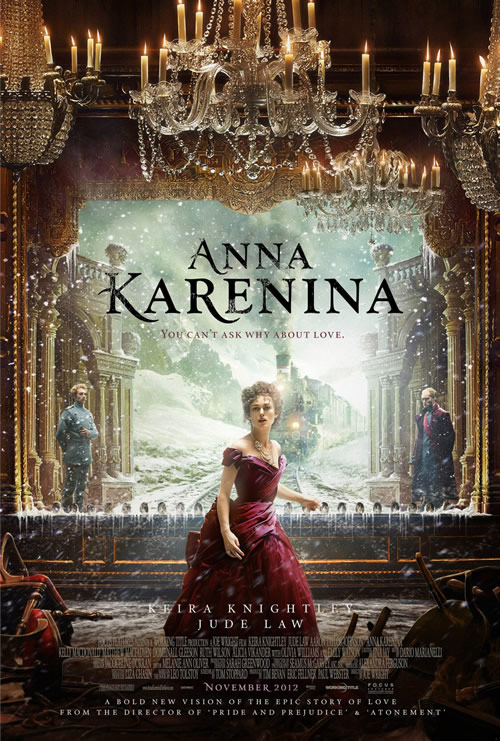 Russia in the late 1900's: Prince Oblonsky has just had his extra-marital affair discovered by his wife Dolly and the family is in turmoil just as Oblonsky's sister, Anna, who is unhappily married to Alexei Karenin, is about to arrive.  Meanwhile Dolly's younger sister Kitty is being pursued by two men; landowner Konstantin Levin and army officer Count Vronnsky.   Anna arrives at the station and her and Vronsky briefly see each other, though at the same time a railway worker accidently falls in to his death in front of a train.  At a ball, Anna and Vronsky, ignoring what was obviously a bad omen, begin to dance and at the same time fall in love……
The latest version of Leo Tolstoy's epic novel, considered by some to be the greatest novel ever written, is an admirable and ambitious work but one that is not a total success.  When he realised the budget allotted to the project would not be enough for convincing sets, director Joe Wright came up with the intriguing idea of setting nearly all of the story in a theatre where not just the stage but the seating area are incorporated into the proceedings.  Backdrops constantly change. characters seem to move from one lavish set to another.  When people are travelling by train, we see not only the characters in a set resembling the interior of a train compartment but shots of a toy train.  This is certainly interesting, but does it really work? As an artistic experiment [albeit one necessitated by circumstances], it does succeed by and large.  The film is constantly interesting visually, the fact that it seems to blur the line between stage and screen most definitely not resulting in a film that is dull or static.  As a way of telling the story, though, it is less successful.
A few days ago I reviewed a film called Orlando which was based on a very unusual book and therefore required stylised handling.  I'm not sure, though, that a more 'classical' work like Anna Karenina benefits from it.  Though it is many other things, so many in fact that no film can probably do justice to it, it is most famously a doomed, tragic romance, and when watching a story of this kind one wants to be moved and even brought to tears.  I happily admit that I am certainly susceptible to weepiness at times.  Sadly, this movie left me cold and I doubt many handkerchiefs are being pulled out for the sad final third.  A surprise considering this movie comes from the director of the shattering Atonement. The cast and even the story seem dwarfed by the settings and the directorial flourishes, something which I enjoy in some films but just doesn't seem right for this one.  Add to this some serious miscasting, most notably the far too young Keira Knightley, and the film becomes a bit problematic.  Keira tries bless her, but yet again just reveals what an average actress she is and she certainly does not hold a candle to Greta Garbo in the role of Anna!
The early scenes are so short and rush by so fast that some unacquainted with the book or previous adaptations may have trouble working out who is who and what their relationships to each other are.  Writer Tom Stoppard has attempted to pack in as much as he can, most notably including a not-always-included secondary love story which is a kind of mirror to that of Anna and Bronsky and is seemingly pure and innocent rather than sinful and destructive.  This means the film, for a costume drama, certainly moves well for at least its first half while allowing Wright to give us some terrific directorial fireworks, something which won't be a surprise to many.  The highlight is a ball scene where, as Anna and Vronsky begin to fall for each other as they dance, the other dancers appear to freeze, as if time itself is freezing for the main couple and the camera just darts in and out around them. Their rising passion is illustrated by the camerawork becoming more and more manic in a way possibly inspired by the great ball scene in the 1947 version of Madame Bovary [not an entirely dissimilar story].
The use of colour, especially for the costumes, is striking throughout.  I especially loved the way white was associated with Anna in her 'happy' state, perhaps illustrating that she is in a sort of 'heaven'.  A picnic scene with Vronsky has her, Vronsky and their tablecloth all white and it makes for a very pretty contrast with the lush green of their surroundings. Occasionally, for scenes that don't require any sets, things do occur actually outside, mostly for the 'secondary' romance of the film, which by the way has one of the sweetest declarations of love I've seen in ages, involving toy letter blocks.  This version of Anna Karenina is marginally more explicit than most and Knightley and Aaron-Taylor Johnson do convey some sexual passion but little else.  Dario Marianelli's music is left to supply much of the feeling and he gives us a gorgeous, evocative score.  As usual, he is guilty of repeating the same theme a little but it was such a joy for me to hear decent film music after the crap musical backing of films like Total Recall and The Dark Knight Returns.
The final shot of this movie is of the theatre set with grass in and outside it.  It's an evocative image and, intentionally or it, it also sums up the awkwardness and conflicting elements of this Anna Karenina.  On this instance, Wright has aimed too high and failed, but it's an honourable failure and he has nothing to be ashamed of.
Rating: