St George's Day (2012)
Directed by: Frank Harper
Written by: Urs Buehler
Starring: Charles Dance, Craig Fairbrass, Frank Harper, Keeley Hazell, Neil Maskell, Vincent Regan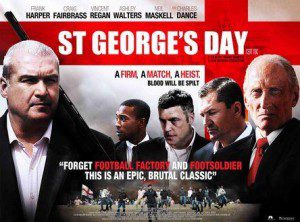 [youtube]https://www.youtube.com/watch?v=pdvseSAVznI[/youtube]
Running Time: 103 mins
Certificate: 18
Reviewer: David Gillespie – HCF Official Artist
Having convincingly portrayed the roles of gangster, thug and football hooligan in previous films, Frank Harper combines all three for his role in his violent directorial debut, St George's Day.
The story focuses on two gangster cousins, Mickey (Harper) and Ray (Craig Fairbrass) and their struggle to maintain top of the power chain with the arrival of Russian and Eastern European mafia. Mickey is happy with his role as a necessary evil in society whereas Ray wants to go legit and invest in a better life abroad. His plans are scampered when a risky but highly paid drug deal between their third in command, Albert (an impressive Vincent Reagan) and sinister Russian mafia boss, Sukhov (Zlatko Buric) goes horribly wrong. Soon Mickey, Ray and Albert must find a solution to pay back the Russians and keep one step ahead of vengeful policeman, Nixon (Jamie Foreman). After travelling with Mickey's brother, Eddie (Tony Denham) to Holland for an organised battle between football gangs, Albert suggests a possible way of making big money quick. With their old friend, Trenchard (Charles Dance) using his power to hold back the violent attentions of the Russians, the three men undertake a daring diamond heist with everything at stake.
St George's Day has a number of positives. Harper's direction is swift, confident and makes good use of its experienced cast. In addition to the main players, Sean Pertwee (Dog Soldiers), Neil Haskell (Kill List) and Dexter Fletcher (Kick Ass) all perform well in their supporting roles. That is with the exception of the top heavy, Keeley Hazell who plays Mickey's very thick girlfriend. She clearly has some way to go before she reaches anything near a competent level of acting ability. However she is spot on in her interpretation of a pretty but dull socialite.
Some of the set pieces are skilfully orchestrated with one meeting in a Dutch field coming across particularly well on the big screen. Harper does not hold back regards the violence and nudity with numerous shootings, stabbings and visits to lap dancing bars throughout the running time .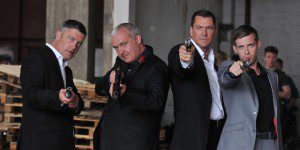 The film's biggest flaw is originality with nothing to differentiate it from any other British gangster flick that you've seen before. Harper narrates in Guy Ritchie fashion. He introduces each of his crew as a psychopath. He explains that the Russian mafia are psychopaths too but have no loyalty, respect or morals. At least the British psychopaths have a code. The dialogue is full of cheeky cockney ratings and unfunny jokes. The quality of the writing certainly suffers in the final quarter when even the most hardened gangster fan will be looking at their watch.
St George's Day will not go down in history as one of Britain's finest gangster flicks. It tries to squeeze in several ideas and styles from other superior films. Perhaps Harper might have been better to take a gamble and throw in a few ideas of his own?
Rating: