As official blogging partners of Universal and to celebrate 100 years of Universal Studios films, we've been asked the most difficult question of all… What are your Top 10 Universal Films?
After much arguing, tea spilling and hair pulling, the six members of HCF finally agreed on their Top 10 from a list of 100 Universal movies spanning an entire century.
There'll be horror classics, cult favourites and even the odd surprise! Take a look at our Top 10 below.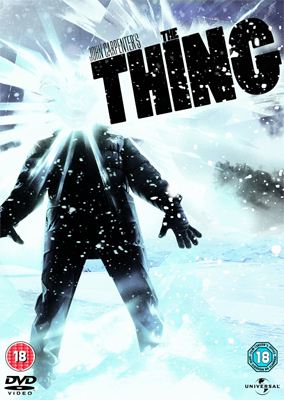 The Thing (1982)
David: When was the last time that you watched a horror movie that was scary, suspenseful, thrilling, gory, well-acted and original? You'd be standing scratching your head because they don't make movies like The Thing anymore. Rarely does a project tick so many of the right boxes. The project has director John Carpenter at the height of his directorial powers, Rob Bottin working himself to a mental breakdown with perhaps the most imaginative and ground-breaking monster and gore effects ever to grace the silver screen and a top class list of character actors, including a commanding performance from a young Kurt Russell.
For those who have not seen this classic tale of terror, the story follows a team of American scientists and their attempts to survive against a hostile alien life form that they find trapped in the ice. Not only is the creature extremely capable at eliminating the staff but it can replicate their bodies too. The few remaining survivors realise that if they have any chance of survival then they need to find a way of exposing the beast and destroying it once and for all.
The pace of the film is perfect. A slow moving and suspenseful first half leads to all hell breaking lose in the second. The medical room massacre and the blood test sequences are prime examples of how to build the tension up to bursting point and then deliver something far uglier and horrific than your audience could possibly expect. Although the gore levels are more than likely to chase away most of the more squeamish filmgoers, The Thing is a must for any fan of top class, film making.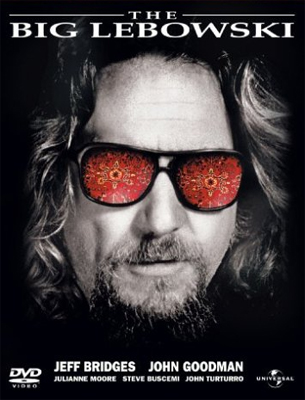 The Big Lebowski
Matt: The Big Lebowski see's Jeff Bridges in one of the finest roles of his career as 'The Dude'. Also known as "His Dudeness" or by his real name Jeffrey Lebowski, an unfortunate case of mistaken identity results in some criminals peeing on his beloved rug. Upset, The Dude seeks out the real Jeffrey Lebowski in order to get some compensation for his ruined rug. Things don't exactly go to plan, and the Dude ends up in a kidnapping issue, and enlists the help of his bowling buddies to help him out of an increasingly dangerous situation.
The Coen Brothers rarely make a bad film, and it is very hard to pick a favourite but for me The Big Lebowski just tips it. Granted the central, mesmerizing performance by Jeff Bridges as The Dude steals the show, and has fans the world over wanting to be like him, but there is more to this film than just one central character. The dialogue, as always, is damn near perfection "sometimes there's a man…", the comedy comes and goes and blends with some more serious moments so well that this film is all the proof you need that the Coens are geniuses. The settings are great, with the bowling alley being the perfect place to get things back in order again "does nobody give a shit about the rules!!!", the score works wonders (especially when The Dude goes on a drug fuelled trip), and each and every character, from Buscemi's quiet Donny )"Shut the fuck up Donny!!"), to Goodman's gargantuan Vietnam vet Walter ("shomer shabbos!!"), this film is perfection.
There are so many great Coen moments here that it is impossible to list them all, but one of my favourites is when The Dude wakes up from having his drink spiked, and is in the sheriff's office. Not really paying attention to what the sheriff is saying, eventually the sheriff gets mad and throws his coffee cup at The Dude's face! Priceless!
Fear & Loathing in Las Vegas
Bat: Fear and Loathing In Las Vegas is the tale of sports journalist, Raoul Duke and his Samoan attorney, Dr Gonzo (a thinly disguised Hunter S Thompson and his friend Oscar Zeta Acosta), who take up the opportunity of covering the Mint 400 desert race in Las Vegas, whilst intoxicating themselves on a vast amount of drugs and liquor, in search of the American Dream.
Directed by Terry Gilliam, who is no stranger to weird and strange movies, this film is a perfect visual to Hunter S. Thompson's book of the same name. We follow Raoul Duke as he sits in the Polo Lounge at the Beverely Hills hotel, patio section of course, drinking singapore slings with mescal on the side. Given the Mint 400 assignment, Duke invites his attorney along for the ride as they find the job a perfect opportunity to get off their heads, all-expenses paid. Cue outrageous scenes including the 'reptile zoo' of the lizard lounge, Dr Gonzo reaching dizzy heights of paranoia whilst tripping on acid and Duke attempting to bunnyhop off a rotating carousel bar.
Stars aplenty made cameo appearances in the 1997 film such as Tobey Maguire, Cameron Diaz and Christina Ricci, not to mention the author, Hunter S. Thompson, himself. The film was a true adaptation of his work and only Terry Gilliam could bring the complex, hallucinogenic tale, laced with HST's political observations on society, to fruition.
This is one of, if not the, best role of Johnny Depp's as he takes centre stage as Raoul Duke, accompanied by Benecio del Toro as Dr Gonzo, who piled on the pounds for the role of the gun-toting, crazy attorney.
Being a self-confessed HST nut and taking my moniker from this very book/film, Fear and Loathing In Las Vegas simply had to be in our Universal Top 10. A visual movie, as much of a narrative one, nothing has come close or ever will again. A truly unique flick.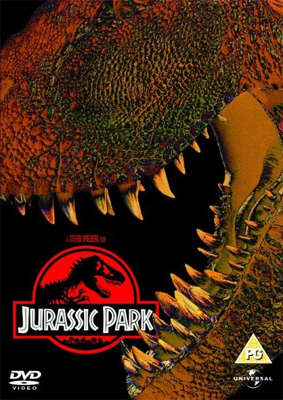 Jurassic Park
Juan: It's been almost 20 years since Steven Spielberg's dino adventure first hit cinemas, and it's a film that still feels as fresh and exciting to this day. Billionaire John Hammond, and his top genetic scientists have found a way to extract dinosaur DNA, and using cloning technology, are able to genetically engineer different species that have been extinct for millions of years. These dinosaurs are reared on a private tropical island, which is soon to be opened as a theme park. Palaeontologists Dr. Alan Grant and Dr. Ellie Stattler, played by Sam Neil and David Lynch favourite, Laura Dern, are invited to a preview of the new attraction, along with mathematician and chaos theory expert, Dr. Ian Malcolm, played in a superbly dry turn, by Jeff Goldblum. Everything goes wonderfully until mega-jerk Dennis Nedry (Wayne Knight), compromises the safety of the park, trying to smuggle out dinosaur embryos. Shutting down power to the park to aid his misdeeds, the dinosaurs are given free reign to run amok. And all this with a tropical storm hitting the island too.
Jurassic Park is a cinematic landmark, bringing to life creatures, that until that point had only been able to be recreated using stop motion, or pretty substandard practical effects. Featuring some amazing CGI and animatronics that are still unrivalled today, it's an awe-inspiring film. From the first moment of seeing the gigantic brachiosaur, to the last shot of the famous T-Rex, Jurassic Park remains an amazing feat in film making, thanks, in no small part, to director Steven Spielberg. Long time collaborator, John Williams was on fine form yet again, producing a goosebump inducing score which really sets the tone for the adventure. It's one of the biggest blockbusters ever, containing many memorable scenes, with almost every scene being exciting, scary or funny, from Dr. Grant giving a cynical child a lesson in what a velocoraptor would do to him given the chance, or the T-rex in pursuit of the fleeing jeep, or climbing down the electric fence, everyone has a favourite moment. Jurassic Park made an enormous impact when it was released, not just on cinema, but in pop culture in general, with it being seemingly inescapable and is probably responsible for a generation of palaeontologists. Even after all this time, it remains a thrilling, unrivalled prehistoric adventure, and probably Spielberg's last truly great family blockbuster.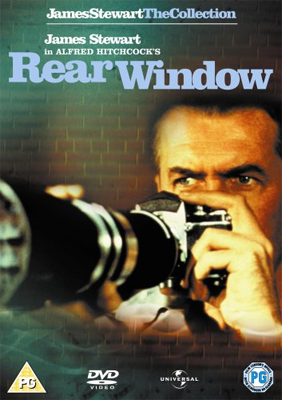 Rear Window
Dr Lenera: Professional photographer L.B. Jeffries breaks his leg while getting an action shot at an auto race. Confined to his New York apartment, he spends his time looking out of the rear window observing the neighbors. He begins to suspect that a man across the courtyard may have murdered his wife. Jeff enlists the help of his high society fashion-consultant girlfriend Lisa Freemont and his visiting nurse Stella to investigate.
It's my view that 50% of all film lists that involve movies made before 1976 should include at least one film made by Alfred Hitchcock.  He combined artistic brilliance, incorporating a style and worldview that was all his own, with commercial savvy; most of his films were popular and he remains probably the only 'old-time' director nearly everyone has heard of.  John Frankenheimer once said "any director who says he hasn't been influenced by him is out of his mind".  Rear Window might be the most perfect example of his work.  Maybe Vertigo is more beautiful, Psycho scarier, North By Northwest more action-packed etc, but I feel that if you had to watch just one Hitchcock movie and could maybe distall the essence of Hitchcock into one film, it would be Rear Window.
It's technically audacious and brilliant, with the camera never leaving Jeffries's apartment except for one shot, yet the film never feels cramped.  It's a masterclass in gradually building suspense, finally paying off with a climax that is as terrifying as they come. It's witty and filled with black humour.  It's cleverly structured, with all the vignettes taking place that Jeffries watches great little stories in their own right.  It's a bit sexy; for a start unmarried women did not spend the night round a boyfriend's house in 1953 films!  It has all of Hitchcock's interests such as voyeurism and murder.  It can even be considered cleverly symbolic of the act of watching films.  And of coure, it  has great performances, with James Stewart at his best as the wheelchair-bound camerman who pays the price for being a little bit nosey; the look on his face when he girlfriend obtains some evidence is a beautiful little moment, the actor showing that he has finally fallen in love with her with just one look.  Grace Kelly is at her most gorgeous and Thelma Ritter hilarious as the nurse.  A masterpiece through and through, one of those films I struggle to find flaws in.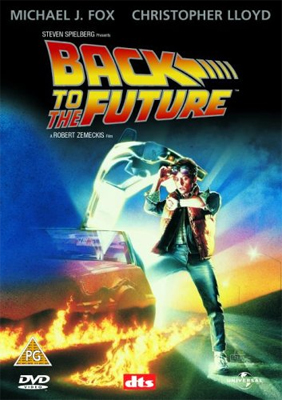 Back to the Future
Ross: A cool Delorean, "88 Miles Per hour!", words like "1.21 gigawatts", a mad scientist, his young friend who dreams of being a rock star and of course the sound of Huey Lewis and The News singing the belter "The Power Of Love"….. yes I can only be taking about the one and only Back To The Future. It be unkind to say its one of the 80's greatest films, because its too damn good for that. The film is one of those which are up there in the status of "Jaws", the kind that will never age, has hordes of fans and even now to this day, finds a new generation to fall in love with its simple tale.
Michael J Fox and Christopher Lloyd will forever be associated with the roles of Marty Mcfly and Doc Brown. Born to play these characters, the chemistry between the two is one of the reasons why the film sparkles with sheer delight and charm. Doc who has created a time machine out of a stylish Delorean which every kid wanted back in those days, is showing off his invention to his young school friend when a chain of events see's our Marty go from a 1985 teenager in Hill Valley California to the year 1955, where his own mother begins to fall for him instead of his father. With the past changing his future, Marty needs all the help he can get and calls on the 1955 Doc Brown to not only help him through this mess but also send him Back To The Future……..
If I had to chose one of my favourite films of all time, then this piece of cinema would be high on the list. The film is rich full of golden moments and excitement which you simply can't shake off. Its a rip roaring adventure, a tale which in any other hands could have been on dodgy ground, I mean a mother falling for her son? This is basically incest! But the writing skills of Robert Zemeckis who also directed, somehow gets the boundaries spot on. Not many films can get a loving heart into the plot thread, but with such wonderful characters, Back To The Future is a warm hearted tale that if not seen before, will have newcomers holding onto the arms of their chair in excitement thanks to the finale which is perfectly staged and one for a film that is about time travel, its great that Back To The Future will forever be a timeless classic.
Babe
Bat: Babe is the story, and name, of a runt piglet won from a country fair by local farmer, Arthur Hoggett (James Cromwell). Befriending the other farm animals, the polite young pig is taken under the wing of Farmer Hoggett's sheepdog collie, Fly. The exceptionally bright Babe grows to learn about the job of a sheep-dog and his skills and inquisitiveness grabs the attention of Farmer Hoggett, who decides to enter Babe into a sheep-herding contest. It isn't before long that Babe wins the hearts of the spectators and film viewers alike. A truly heart-warming, family-friendly fun film.
Before you all shout "that isn't horror or cult!", let me explain. Babe is a truly magnificent film and it turns out I'm not the only person who agrees with that sentiment. After speaking to a few of my team members at HCF (who shall not be named for their own protection), it turns out they too have a fondness for the talking, toupee-wearing, sheep-pig. What's not to love?!
An accomplished cast voice the farm animals such as Hugo Weaving, Christine Cavanaugh and Miriam Margoyles. Babe also features everyones favourite American-but-we-think-he's-a-Brit, James Cromwell, doing an Irish jig in his living room when not tending to his crops and teaching Babe to herd sheep.
This light-hearted tale is suitable for all ages and with its main star a talking pig wearing a toupee, it would be criminal not to include Babe in our Universal Top 10.
Babe is one film that can stand proud and shout "I'm a sheep-pig!".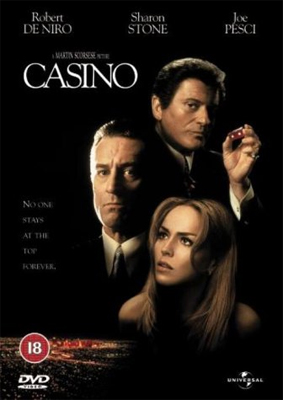 Casino
David:
"When you love someone, you've gotta trust them. There's no other way. You've got to give them the key to everything that's yours. Otherwise, what's the point? And for a while, I believed, that's the kind of love I had". (Boom!!!) Ace Rothstein
From the explosive prologue to the final image of an ageing Ace Rothstein, Casino is the perfect example of why Martin Scorsese is considered to be one of the greatest directors of all time. Similar to the lead character, the director is meticulous in his attention to detail throughout the fascinating, but horrifically violent, tale of the mafia's disastrous attempt at running Tangiers casino in Las Vegas during the 1970's and 80's.
For a film that passes the three hour mark, it is rather impressive that the pace never seems to let up. Highlights include the opening quarter explaining in intricate detail how a casino is run and who watches who within its walls. It is a testament to the skills of Scorsese that he should make this interesting never mind exhilarating.
Robert De Niro, Joe Pesci and Sharon Stone are fantastic in the lead roles. James Woods nearly steals the show in a fantastic, sleazy cameo as Stone's pimp boyfriend. However it is De Niro with his restrained but commanding performance that holds the film together.
The big question that many will ask is whether it is better movie than the more publicised Goodfellas? It is a hard call but in my opinion, Casino is the winner at the table.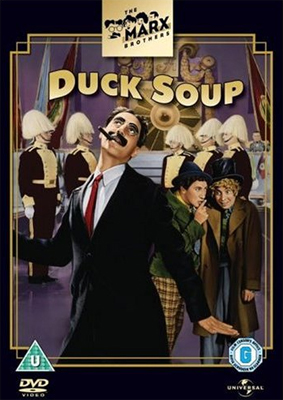 Duck Soup
Dr Lenera: The small state of Freedonia is in a financial mess and has to resort to borrowing a huge sum of cash from wealthy widow Mrs. Teasdale. She insists on replacing the current president with crazy Rufus T. Firefly and mayhem erupts.  To make matters worse, the neighbouring state sends inept spies Chicolini and Pinky to obtain top secret information, creating even more chaos.
The Marx Brothers don't seem to be spoken of much these days, but for my money they revolutionised comedy with their invention and zaniness and without them we wouldn't have had nearly half the comedy acts we have had since.  Their films are still able to send first-time viewers into absolute stitches [something I've done on several occasions is to make someone who isn't too interested in old comedy watch a Marx Brothers film].  It's been said that Groucho steals the films somewhat with his hilarious wisecracks, and certainly nobody in the universe is rude like Groucho, but hearing Chico murder the English language and seeing  Harpo's sublime miming is fun too.  Duck Soup was actually a box office disappointment and has been proposed as one of the reasons the Marx Brothers moved from Paramount to MGM where their insanity was diluted, but it is now often regarded as their best film. In retrospect, it was just ahead of its time.
The comedy is this movie is simply non-stop from beginning to end and runs the full gamut from verbal puns to physical comedy to total insanity, with a war climax that is as bonkers as they come.  There's a mirror gag which astounds with its cleverness and some of the funniest lines ever, my favourite being:  "remember, you're fighting for this woman's honour, which is probably more than she ever did".   Duck Soup is more than just silliness though, it acutely satirises war, government and about ten other things besides which make it pertinent today. It even gives the fourth brother, Zeppo, things to do!  Surreal yet biting, it's one of the greatest comedies ever made, and all without any swearing or crudity whatsoever!
Scarface (1983)
Matt: Scarface is the frantic paced and at times savage tale of Tony Montana (Al Pacino), AKA Scarface. A Cuban immigrant arriving on the shores of the US, and the unfortunate city of Miami, Montana has come to the US with his own take on the US dream in mind. Montana wants money, power and control and he intends to do anything to get it. He arrives with his partner in crime Manny (Steven Bauer) and the pair get their first taste of crime when a deal goes wrong and they avoid a violent set up and get all the money. This is all Montana needs to get him started in climbing the ladder of the criminal world, climbing all the way to the top in a ferocious display of bullying, shouting and ultra violence. Scarface is the ultimate in excess and how one man's desire for money and power can be his downfall. Montana wants it all, and no one is going to stand in his way!
Scarface is without a doubt one of the greatest crime films ever made, and stands tall even today as one hell of an onslaught of foul language, ultra violence, drugs and excess. Having never seen the original 1932 version, I can't compare, but when this remake was announced there were groans from fans of the original, until they saw it. Brian De Palma's masterful, pitch perfect direction and Oliver Stone's tight and incredibly well written script are part of the whole package which makes Scarface so good, so influential and so important. However the films legacy can be pinned down to one man, one gargantuan performance which has been imitated and copied over and over, but never bettered. Al Pacino as Scarface is a joy to watch, a blistering tour de force and a character so memorable that even today his legacy can be seen. When guys want imitate being tough, they will don a Scarface accent, usually complete with the line: "say hello to my little friend" or "I'll bury those cock-a-roaches!" The legacy of Pacino's performance lives on, as gangster films depict a rise to the top and a subsequent fall of a lead character. It is also said that if it weren't for Scarface, 'gangsta rap' may never have been created.
I love Scarface simply because it has guts, balls and integrity. The violence is believable, the dialogue is perfect and Tony Montana is a one man wrecking machine who will disgust and strike fear into you, and yet somehow you cannot help but love the guy. Scarface is one of those films that can simply be called perfect, genre defining, influential, the voice of a generation of wannabe tough guys, exciting, unforgettable, frightening and thrilling. Most of all though, Scarface is an absolute classic!
What do you think of our choices? Comment below and let us know!