Out There (2012)
Directed by: Randal Plunkett
Written by: Oliver Plunkett, Randal Plunkett
Starring: Cian Lavelle-Walsh, Conor Marren, Emma Eliza Regan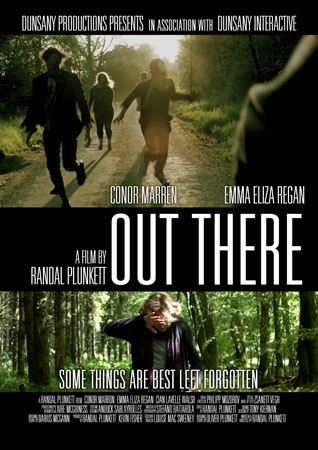 Out There (2012)
Directed and co-written by Randal Plunkett
Co-written by Oliver Plunkett
Out There
follows Robert, who wakes up injured and alone in the woods on a beautiful summer's day. Lost and confused, Robert makes his way to the nearest house he can find but it's deserted. As he struggles to find help, Robert's memories slowly come back to him and he must deal with the suituation he now finds him in.
After the magnificent short film, WALT, which introduced me to the quality filmmaking of the 21st Lord Dunsany, Randal Plunkett, I expected good things from Out There and it did not disappoint. A slow build up grips the audience with the introduction to Robert, played by Conor Marren. We don't know his character and neither does he himself at the beginning, so both the viewer and the character go on a journey of discovery, both of who Robert is and how he ended up bloodied and injured in the middle of the woods.
Engaging editing reveals flashbacks of happier times for Robert, where he spent sun-kissed afternoons with his girlfriend Jane (Emma Eliza Regan) in which he presented her with a beautiful necklace. These scenes are a stark contrast to the situation he finds himself in now, alone in the deserted countryside, not a peep of human activity to be seen. Things soon take a sinister turn when he discovers a farmhouse with the sound of heavy music blaring out. Inside, Robert finds no-one but stumbles into a room full of disturbing imagery. Hearing the creaking floorboards and footsteps, Robert wastes no time in getting the hell out of there.
The stunning grounds belonging to the Dunsany Estate once again play host to Plunkett's film, after being used as the setting for his previous short film, WALT. Acres of natural pure beauty work perfectly for OUT THERE, emphasising how lost and vulnerable Robert is, as well as ironic as to how a beautiful, tranquil setting can also be hell on Earth.
What captures my attention when watching OUT THERE are the skills of the cinematographer, the costume designer, make-up artist, composer and other crew members. Working as a team with Plunkett, they have moulded a piece of cinema that would not look out of place on the big screen. The visuals are stunning, the angles, the narrative and editing, all are professionally executed without a hitch. If Plunkett can create magnificent works of cinema on a miniscule budget, what would his films be like if given a studio budget?
Clearly Randal Plunkett has skill and an eye for filmmaking and with his brother Oliver, they write interesting, story-led screenplays that focus upon tension and build-up rather than copious amounts of blood, guts and gore. I've always preferred this sort of filmmaking, though I still enjoy my blood feasts, as it requires significant skill to tell a good story and allows the viewer's imagination to fill in the gaps. If this difficult art can be achieved, then you have yourselves a hit.
Plunkett's film ticks all the boxes and leaves me yearning for more. I'd very much love to see him attempt a feature film and after his short efforts with Walt and Out There, I don't think he'd have any problems at all.