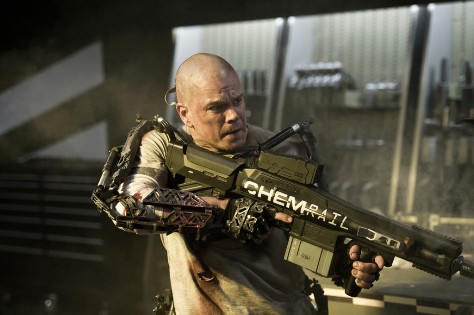 Recently there has been a load of talk of Jose Padilha's Robocop remake, and plenty of photos arrived on-line from the minute the film began shooting, so interest in the film is clearly very high indeed. While fans, including myself, have complained about Robocop's new look, you cannot deny that people are ever so slightly interested in seeing just what the director of Elite Squad and Elise Squad: The Enemy Within can bring to the film. However, we are going to have to wait a little while longer, and we are also going to have to wait a little while longer for District 9 director Neill Blomkamp's latest, Elysium.
Starring Matt Damon, Elysium is still a huge mystery for fans, with only a brief synopsis and just the one image revealed. There was a teaser trailer last year which showed us practically nothing, and while fans at the San Diego Comic-Con got a glimpse of some of the space ships, we have not yet seen much else. I like a good bit of mystery, but what I don't like is having to wait longer for the reveal than already expected, but sadly that is now the case with Elysium.
Sony have pushed Blomkamp's Elysium back from 1st March 2013 to 9th August 2013, right in the heart of the summer blockbuster season. It makes sense as the film will no doubt be huge and will benefit from the box office madness that is the summer, but this new release date now clashes with Sony's other big sci-fi event, Robocop. What to do? Well, push Robocop back of course, however this is a mighty change. Originally planned for the 9th August slot, Robocop will now land on 7th February 2014.
Elysium:
Written and directed by Neill Blomkamp, Elysium stars Matt Damon, Jodie Foster, Sharlto Copley, William Fichtner, Michael Shanks and Alice Braga.
Synopsis:
In the year 2159 two classes of people exist: the very wealthy who live on a pristine man-made space station called Elysium, and the rest, who live on an overpopulated, ruined Earth. Secretary Rhodes, a government official, will stop at nothing to enforce anti-immigration laws and preserve the luxurious lifestyle of the citizens of Elysium. That doesn't stop the people of Earth from trying to get in, by any means they can. When unlucky Max is backed into a corner, he agrees to take on a daunting mission that if successful will not only save his life, but could bring equality to these polarized worlds.
Robocop:
Director José Padilha (Elite Squad) reimagines the tale of part man, part machine, all cop starring Joel Kinnaman (The Killing) as the title character, with Abbie Cornish playing his wife Ellen,  Gary Oldman (The Dark Knight Rises) as the scientist who creates RoboCop, Jackie Earle Haley as  Maddox, the man who dispenses the military training to Robocop, Michael Keaton will play Raymond Sellars, and Samuel L. Jackson (The Avengers) as media mogul Pat Novak, and Aimee Garcia will play a scientists who helps put Robocop together. RoboCop is being produced by Strike Entertainment's Marc Abraham and Eric Newman, with Eric Carraro as Executive Producer.
Synopsis:
In RoboCop, the year is 2029 and multinational conglomerate OmniCorp is at the centre of robot technology. Their drones are winning American wars around the globe and now they want to bring this technology to the home front. Alex Murphy is a loving husband, father and good cop doing his best to stem the tide of crime and corruption in Detroit. After he is critically injured in the line of duty, OmniCorp utilises their remarkable science of robotics to save Alex's life. He returns to the streets of his beloved city with amazing new abilities, but with issues a regular man has never had to face before.
Some new set photos have arrived on-line for the Robocop remake, and come with added bike! I must admit that on his own, Robocop and his new suit looked a bit silly, yet when sat on his pretty nifty looking motorbike the two things come together nicely and it actually looks kinda cool. Check out the images next.
[nggallery id=126]