Two films from director Massimo Dallamano are being released onto DVD this month by ARROW VIDEO and an exciting documentary about one of film's greatest icons will be released at the cinema at the beginning of November .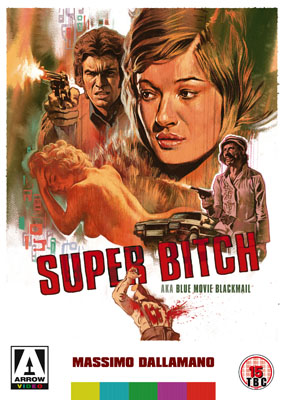 SUPER BITCH
Blue movie blackmail and sexual depravity are at the heart of a wicked scam to manipulate rich, perverted men in this soft-core pasta crime classic from Massimo Dallamano, cinematographer on A Fistful of Dollars and director of Giallo favourite What Have You Done To Solange?
Italian trash cinema icon Ivan Rassimov is a police inspector working undercover to expose a London escort agency where the frequently naked Stephanie Beacham is being filmed in sexually compromising situations with her moneyed clients. These poor chumps will soon be smuggling drugs across international borders for her and her shadowy associates.
Wallow in the sleaze and enjoy the depravity of Super Bitch, a film with all the car chases, murder, sex and moral ambiguity a cult movie fan could possibly want.
Super Bitch (cert. 15) will be released on DVD (£15.99) by Arrow Video on 25th October 2012.
Special features include: New widescreen transfer in the original ratio; Newly translated optional English subtitles; Optional English and Italian audio tracks; BULLETS, BABES AND BLOOD: THE HIGH OCTANE ACTION OF THE ITALIAN POLICE FILM – Legendary directors Ruggero Deodato, Sergio Martino and Brit filmmaker Darren Ward and critic Paolo Zelati, discuss the sex, style and shootouts that typified the Italian crime-caper; RUGGERO DEODATO REMEMBERS IVAN RASSIMOV – An affectionate look back at the veteran Italian exploitation actor and SUPER BITCH leading man; Collector's booklet featuring new writing on the film by author and critic Calum Waddell; Reversible sleeve featuring original and newly commissioned artwork by Graham Humphreys
THE NIGHT CHILD
When a documentarian delves into the dark world of satanic art for a new film, he unearths a disturbing painting that leads him into a world of post-Exorcist Italo-Horror where cursed medallions, possessed children and the overwhelming power of the dark lord converge to create a visually stunning and wildly eccentric exploitation classic from Massimo Dallamano (Venus in Furs, What Have You Done With Solange?)
With Italian cult cinema child star Nicoletta Elmi (Who Saw Her Die?, A Bay of Blood) as the motherless, demon-demented daughter and Zombie Flesh Eaters' Richard Johnson as the filmmaker searching for the evil truth, The Night Child is a perfect example of expertly shot, beautifully crafted B-cinema.
See a young girl descend into the hellish pit of demonic possession in The Night Child, a textbook example of 70s euro-horror from an Italian exploitation master.
The Night Child (cert. 15) will be released on DVD (£15.99) by Arrow Video on 25th October 2012.
Special features include: New widescreen transfer in the original ratio; Newly translated optional English subtitles; Optional English and Italian audio tracks; EXORCISM ITALIAN-STYLE: Author and critic Paolo Zelati, filmmaker Luigi Cozzi and screenwriter Antonio Tentori reflect on the brief boom in pasta-possession movies which rushed out of Rome in the wake of William Friedkin's classic THE EXORCIST; Original Italian and US trailers; Collector's booklet featuring new writing on the film by author and critic Calum Waddell; Reversible sleeve featuring original and newly commissioned artwork by Graham Humphreys
Opening at cinemas from 9th November is RAY HARRYHAUSEN: SPECIAL EFFECTS TITAN.
The remarkable career of the movie industry's most admired and influential special-effects auteur, the legendary Ray Harryhausen, is the subject of Gilles Penso's definitive documentary Ray Harryhausen: Special Effects Titan. Take a look at the cracking trailer below