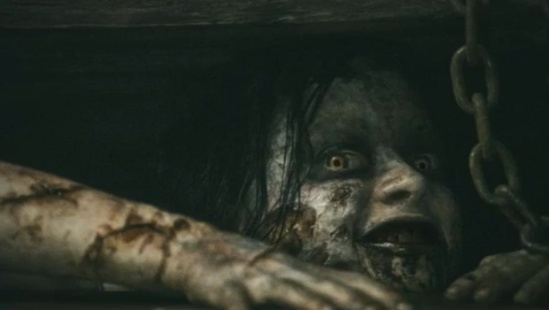 And here it is!!! The first trailer for director Fede Alvarez' Evil Dead has landed, and I will happily admit to being very very impressed. See, I love the original and am not usually one for remakes, or re-imaginings or whatever you want to call them, but Evil Dead screamed of quality right from the beginning. With both Sam Raimi and Bruce Campbell serving as producers, there was no way they were going to allow their beloved horror be spoiled, and spoiled it aint!
If anything, this trailer is even better than expected! We were promised violence and gore, and boy do we get it, and then some! We also see a number of classic Evil Dead moments like the brutal tree rape, the sawing off of an arm, the wonderful low-roving shots and many other blink and you'll miss them moments. It totally looks like this new version is paying deepest respects to the original, while bringing it bang up to date for today's far more gore hungry crowd. This is nasty stuff!!!
Directed by Fede Alvarez, Evil Dead has been written by Alvarez, Sam Raimi, Rodo Sayagues and Diablo Cody. Jane Levy ("Suburgatory") as Mia; Shiloh Fernandez (Deadgirl, Red Riding Hood) as David; Lou Taylor Pucci (Carriers) as Eric; Jessica Lucas (Cloverfield) as Olivia; and Elizabeth Blackmore (Legend of the Seeker) as Natalie all appear, and Bruce Campbell is also onboard as a producer with Sam Raimi.
The Evil Dead is due to arrive in UK cinemas 12th April 2013.
Synopsis:
In the much anticipated remake of the 1981 cult-hit horror film, five twenty-something friends become holed up in a remote cabin. When they discover a Book of the Dead, they unwittingly summon up dormant demons living in the nearby woods, which possess the youngsters in succession until only one is left intact to fight for survival.
(Follow me on Twitter)