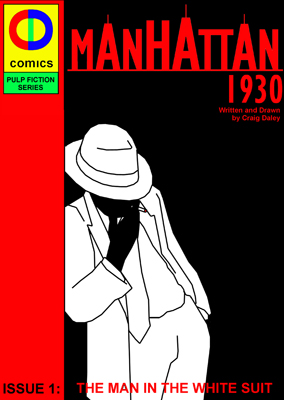 Manhattan 1930: The Man In The White Suit
Issue One
Written and illustrated by Craig Daley of CDComics
The year is 1930 and with crime at an all-time high during prohibition, the police need all the help they can get from 'masks' – superheroes and masked vigilantes who do what they can to help protect the area of Manhattan, the only part of the city where masks can legally operate.
After a fellow mask is found dead on the job, masked Harlem Private Investigator, Song, also known as The Main in the White Suit, vows to discover who the murderer is and to stop him or her before more masks wind up dead. However, with the Thelemic mystic Aleister Crowley rearing his wicked head, could the case be more complicated than first thought?
You've got to hand it to Craig Daley of CDComics. His imagination and concept of whodunnit stories are magnificent as he creates a picture, or rather a graphic novel, of a bustling alternate world that still has roots in real life. Craig tells a gripping story complimented by emotive artwork and adds depth to his characters to give the reader a fulfilling plot to sink their teeth into. Whilst Craig's artwork may not be as detailed as other comic books, the art is still very bold and full of emotion to convey the message across to the reader and his simple, clean lines have definitely become his trademark style.
The story begins in Manhattan 1930: The Man In The White Suit, the first issue of CDComics' Pulp Fiction series, but is left on an intriguing cliffhanger, urging the reader to continue with issue 2. Whilst reading the comic, I felt similarities to that of Watchmen, so if you enjoyed that then you'll love Manhattan 1930. All I need now is to get my grubby mitts on Issue 2 so I can see what happens next and re-absorb myself in this fantastic, crime-ridden, gritty world!
Manhattan is available to download in three parts, priced around $0.99/80pUK each and is available from the following websites
Amazon
Drive Thru Comics
Smashwords
Kobo
Diesel
Barnes & Noble USA
Nook UK
Sony
Apple
The Manhattan 1930 Graphic Novel with all three parts is available from four Sheffield retailers, Rare & Racy, Galaxy 4, Blackwells and the Space Centre, priced £2.50.
For more details visit https://cdgraphicnovels.blogspot.com