Ruby Sparks (2012)
Directed by: Jonathan Dayton, Valerie Faris

Starring: Annette Benning, Antonio Banderas, Elliot Gould, Paul Dano, Steve Coogan, Zoe Kazan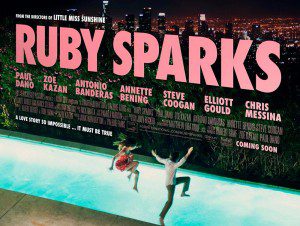 [youtube]https://www.youtube.com/watch?v=W4RJYlSgDKM[/youtube]
Certificate: 15
Running Time: 104 minutes
Reviewer: David Gillespie -Official HCF Artist
After the impressive and touching indie comedy, Little Miss Sunshine, it is surprising that Jonathan Dayton and Valerie Faris follow-up is such a one trick pony. The content does not seem to justify the hour and half-ish running time.
The story follows the adventures of a struggling author called Calvin Weirfields (Paul Dano) who has a nasty case of block (not in the sense of needing more fibre in his diet). With the pressure of following up a classic American novel and the needling of his sleazy publisher (Steve Coogan), Calvin begins to dream of a pretty redhead called Ruby (Zoe Kazan) and subsequently begins writing about her. His psychiatrist (Elliot Gould) thinks that this is a positive step to resolving his emotional issues and encourages him to continue with this self-therapy.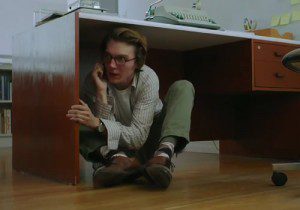 Things are turned on their head when Calvin wakes up one morning to find Ruby standing in his kitchen asking him if he wants breakfast. Having firstly come to the conclusion that he is taking some form of breakdown, he realises that everyone can see Ruby too, including his blunt but caring brother, Harry (Chris Messina). He suggests that if Calvin created her, he can tweak with character and physical appearance. The young writer resists the urge to change Ruby, but when things start to go sour between the couple, he is overwhelmed to change things. Unfortunately when he tampers with Ruby's behaviour and characteristics things don't work out the way that he expects them to.
The main problem with Ruby Sparks is that there are not enough ideas and comical situations to keep the viewer interested throughout the running time. Calvin's hippy mother (Annette Benning) and stepdad (Antonio Banderas) are funny but appear to be a tagged on, 'Meet the Parents' style filler to pad out the story. Paul Dano does his best in the lead role. His wide eyed and energetic performance is a cross between Woody Allen and Gene Wilder. Zoe Kazan is fine in the dream girl role but lacks the required 'spark' and charisma to fall into anyone's dream girl category apart from Calvin. Chris Messina, playing the randy brother, gets the funniest lines in the film. While I was watching him on screen I wondered how more interesting the story would have been if he had been graced with the same powers as his intellectual sibling?
Ruby Sparks is a patchy and underwhelming comedy fantasy. The only thing that is has going for it is that it avoids the stereotypical rom-com trappings of other similar Hollywood efforts released this year. It just isn't very good.
Rating: