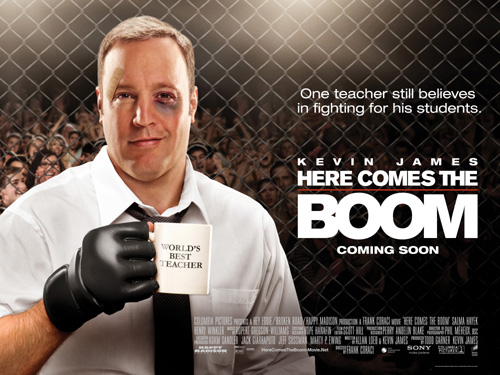 If there is anything school movies have taught us, it's that there is more to education than just learning the ABCs. In Here Comes The Boom, Kevin James plays Scott Voss, a high school biology teacher adamant to save the school's extra-curricular activities program from being axed. In an effort to raise the money needed to save the initiative, he decides to become a mixed martial arts fighter. That is just one example of an unlikely turn of one teacher's life in cinema, but, in fact, there are numerous.
Why not re-educate yourself on favourite teacher film classics and think about how well you know them? What can we learn (or sometimes not learn) from these feature films?
B is for Bad Teacher
Surely, the main reason any female goes in to teaching is to fund her surgery for a breast enhancement.  Might not be applicable to all, but such is the case of Elizabeth Halsey played by Cameron Diaz in 2011's Bad Teacher. As teacher who drinks heavily, smokes marijuana and swears at her students, Elizabeth is hardly ladylike in her approach to educating young minds. Lacking moral scruples, she certainly teaches her students a lesson like no other and eventually becomes a "bad girl gone good" in this hilarious comedy, co-starring Justin Timberlake and Jason Segel.
D is for Dead Poets Society
1989 saw the release of the critically acclaimed Dead Poets Society starring Robin Williams as Professor Keating, an unconventional American educator in 1950s, who transforms the lives and minds of his pupils through poetry and philosophical literature.
E is for Election
Reese Witherspoon took the notion of an over-achiever to the extreme when she starred as Tracy Flick in Election, alongside Matthew Broderick as long suffering teacher Jim McAllister. Tracy Flick's dark and vindictive side grates on McAllister, and when Tracy decides she wants to run for student body president, he tries teaching her a lesson with a questionable outcome.
F is for Freedom Writers
Oscar winning actress Hilary Swank plays Erin Gruwell in gritty film Freedom Writers about gang violence and integration in a once prestigious school. Naive Erin eventually rises to the challenge of getting her students to open up and respect one another, by encouraging them to write a daily journal, unassessed and unread by her.
H is for The History Boys
Based on the play by Alan Bennett, The History Boys tells the story of a group of unruly, yet talented, young men at a British Grammar School in the early 1980s who are in need of coaching to earn their place at prestigious universities. Enter Irwin, played by Stephen Campbell Moore, takes on the challenge of prepping them through unconventional methods which, eventually, leads each member of the faculty to question their position at the school.
K is for Kindergarten Cop
Arnold Schwarzenegger + kindergarten = hilarious. Schwarzenegger plays Detective John Kimble, an undercover cop, who must take on the role of a kindergarten teacher in order to get to the bottom of a massive drugs scandal. Kimble soon learns that being in charge of a group of unruly four-year-olds might be even more challenging than fighting crime.
P is for Pay It Forward
When 11 year old Trevor McKinney, played by Haley Joel Osment, begins his seventh grade at school, his social studies teacher, Eugene Simonet, played by Kevin Spacey, gives the class an unusual assignment. They must put together a plan that could change the world for the better. Meant as a learning exercise, Eugene is amazed when young Trevor creates a charitable program based on doing good deeds for other people. He calls it "Pay it forward" which means that if someone does a good favour for you, you pass the good deed on to someone else rather than "pay it back". His plan eventually rolls out across the town and changes the community forever.
S is for School of Rock
In School of Rock Jack Black plays America's most unemployable heavy metal guitarist Dewey Finn who is desperate to win a battle-of-the-bands competition. When his band vote out their overbearing lead guitarist, Dewey must find a way to pay the rent and intercepts a phone call intended for his substitute teacher roommate Ned. Before he knows it, Dewey is propelled in front of a class of elementary school kids with nothing to teach them. He opts for educating them about what he deems to be 'real music' (think Led Zeppelin rather than Justin Bieber…) and enters his entire class in to the battle-of-the-bands contest
Make some room for Here Comes The Boom, educating audiences from November 9th