Released 1st March:
The Bay (15) Running time: 84 minutes
Director: Barry Levinson,  Writer: Michael Wallach
Starring: Kristen Connolly, Jane McNeil, Kether Donohue, Christopher Denham, Will Rogers
Two million fish washed ashore. One thousand blackbirds dropped from the sky. On July 4, 2009 a deadly menace swept through the quaint seaside town of Claridge, Maryland, but the harrowing story of what happened that Independence Day has never been told–until now. From Oscar(R)-winning director Barry Levinson and the producers of Paranormal Activity and Insidious comes this nerve-shredding tale of a small town plunged into absolute terror. The authorities believed they had buried the truth about the tragedy that claimed over 700 human lives. Now, three years later, a reporter has emerged with footage revealing the cover-up and an unimaginable killer: a mysterious parasitic outbreak. Told from the perspective of those who were there and saw what happened, The Bay unfolds over 24 hours though people's iPhones, Androids, 911 calls, webcams, and whatever else could be used to document the nightmare in Claridge.
Broken City (15)  Running time: 109 minutes
Director: Allen Hughes,  Writer: Brian Tucker
Starring: Russell Crowe, Mark Wahlberg, Catherine Zeta-Jones
When disgraced cop turned private detective Billy Taggart (Mark Wahlberg) is hired by NYC's mayor (Russell Crowe) to tail his wife (Catherine Zeta-Jones), he uncovers a city-wide conspiracy of corruption, sex, and murder. With his life threatened at every turn, Billy finds himself faced with an impossible choice, which could have disastrous repercussions for his career and family.
Citadel (15)  Running time: 84 minutes
Director: Ciaran Foy,  Writer: Ciaran Foy
Starring: Aneurin Barnard, James Cosmo, Wunmi Mosaku, Amy Shiels
Tommy Cowley (Aneurin Barnard) lives a quiet life in a decaying apartment complex with his highly pregnant wife. The couple is attacked one day by a group of hooded young thugs, and after a shocking act of violence, Tommy is left to raise his newborn daughter alone.
So shaken by the events that he's developed extreme agoraphobia, Tommy alternates days hiding out indoors in his new flat from imagined threats and intense therapy sessions aimed at bringing him back to normalcy.
When the same hooded gang, seemingly intent on kidnapping his daughter, begins terrorizing his life again, he's torn between his paralyzing fear and protective parental instinct. With the help of a vigilante priest who has uncovered the genesis of this ruthless, potentially supernatural gang, Tommy must overcome his fears and venture into the heart of the abandoned tower block known as the CITADEL to save his family.
Winner of the Midnighter Audience Award at the 2012 SXSW Film Festival, CITADEL brings a fresh take to classic horror by raising the question: How can you protect your family from evil when you're afraid of everything?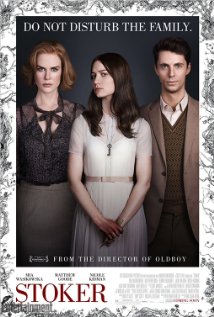 Stoker (18)  Running time: 98 minutes
Director: Park Chan-Wook,  Writers: Wentworth Miller, Erin Cressida Wilson
Starring: Nicole Kidman, Mia Wasikowska, Matthew Goode, Dermot Mulroney
India Stoker (Mia Wasikowska) was not prepared to lose her father and best friend Richard (Dermot Mulroney) in a tragic auto accident. The solitude of her woodsy family estate, the peace of her tranquil town, and the unspoken somberness of her home life are suddenly upended by not only this mysterious accident, but by the sudden arrival of her Uncle Charlie (Matthew Goode), whom she never knew existed. When Charlie moves in with her and her emotionally unstable mother Evie (Nicole Kidman), India thinks the void left by her father's death is finally being filled by his closet bloodline. Soon after his arrival, India comes to suspect that this mysterious, charming man has ulterior motives. Yet instead of feeling outrage or horror, this friendless young woman becomes increasingly infatuated with him.
Released 8th March:
Oz: The Great and Powerful (PG)  Running time: 130 mins
Director: Sam Raimi,  Writers: L. Frank Baum, Mitchell Kapner
Starring: James Franco, Michelle Williams, Rachel Weisz, Zach Braff, Bruce Campbell, Mila Kunis
Disney's fantastical adventure "Oz The Great and Powerful," directed by Sam Raimi, imagines the origins of L. Frank Baum's beloved character, the Wizard of Oz. When Oscar Diggs (James Franco), a small-time circus magician with dubious ethics, is hurled away from dusty Kansas to the vibrant Land of Oz, he thinks he's hit the jackpot—fame and fortune are his for the taking—that is until he meets three witches, Theodora (Mila Kunis), Evanora (Rachel Weisz) and Glinda (Michelle Williams), who are not convinced he is the great wizard everyone's been expecting. Reluctantly drawn into the epic problems facing the Land of Oz and its inhabitants, Oscar must find out who is good and who is evil before it is too late. Putting his magical arts to use through illusion, ingenuity—and even a bit of wizardry—Oscar transforms himself not only into the great and powerful Wizard of Oz but into a better man as well.
When small-time magician Oscar Diggs (James Franco) pulls one flimflam too many, he finds himself hurled into the fantastical Land of Oz where he must somehow transform himself into the great and powerful Wizard — and just maybe into a better man as well.
Parker (15)  Running time: 118 mins
Director: Taylor Hackford, Writers: Donald E. Westlake, John J. McLaughlin
Starring: Jason Statham, Jennifer Lopez, Nick Nolte, Michael Chiklis
Parker (Jason Statham) is a professional thief who lives by a personal code of ethics: Don't steal from people who can't afford it and don't hurt people who don't deserve it.  But on his latest heist, his crew double crosses him, steals his stash, and leaves him for dead.
Determined to make sure they regret it, Parker tracks them to PalmBeach, playground of the rich and famous, where the crew is planning their biggest heist ever.  Donning the disguise of a rich Texan, Parker takes on an unlikely partner, Leslie (Jennifer Lopez), a savvy insider, who's short on cash, but big on looks, smarts and ambition.  Together, they devise a plan to hijack the score, take everyone down and get away clean.
Side Effects (15)  Running time: 106 mins
Director: Steven Soderbergh,  Writer: Scott Z. Burns
Starring: Jude Law, Rooney Mara, Channing Tatum, Catherine Zeta-Jones
SIDE EFFECTS is a provocative thriller about Emily and Martin (Rooney Mara and Channing Tatum), a successful New York couple whose world unravels when a new drug prescribed by Emily's psychiatrist (Jude Law) – intended to treat anxiety – has unexpected side effects.
Released 15th March:
The Last Exorcism Part II (15)  Running time: 88 mins
Director: Ed Gass-Donnelly,  Writers: Ed Gass-Donnelly, Damian Chazelle
Starring: Ashley Bell, Andrew Sensenig, Judd Lorman
Eli Roth & Strike Entertainment bring us an even more terrifying and bigger scale sequel to THE LAST EXORCISM that grossed $70 million worldwide. It looks like Nell Sweetzer's last exorcism was not foolproof. She is back… and so are her demons.
Continuing where the first film left off, teenage Nell Sweetzer is found dirty and terrified in the woods having just escaped a demon ritual in which a cult helped her give birth to a demon baby. Confused and scared, Nell is examined by doctors but she doesn't remember much about the previous few months except that as a result of everything, her family is now dead. She is moved into Davreaux – a girls' halfway house in New Orleans, where she will try to put her life back together with the help of the therapist, Frank Merle. She even begins to date a boy named Chris and starts a job at a local hotel.
But something doesn't feel right to Nell. She is being sought after by the demon who possessed her in the first LAST EXORCISM. It wants Nell, but in a different way than before…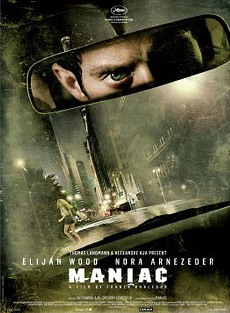 Maniac (18)  Running time: 89 minutes
Director: Franck Khalfoun,  Writers; Alexandre Aja, Joe Spinell, Gregory Levasseur, C.A Rossenberg
Starring: Elijah Wood, Nora Arnezeder, America Olivo
Just when the streets seemed safe, a serial killer with a fetish for scalps is back and on the hunt.
Frank is the withdrawn owner of a mannequin store, but his life changes when young artist Anna appears asking for his help with her new exhibition. As their friendship develops and Frank's obsession escalates, it becomes clear that she has unleashed a long-repressed compulsion to stalk and kill.
A 21st century Jack the Ripper set in present-day LA, MANIAC is a re-boot of the cult film considered by many to be the most suspenseful slasher movie ever made – an intimate, visually daring, psychologically complex and profoundly horrific trip into the downward spiralling nightmare of a killer and his victims.
The Paperboy (15)  Running time: 107 minutes
Director: Lee Daniels,  Writers; Lee Daniels, Peter Dexter
Starring: Nicole Kidman, Matthew McConaughey, John Cusack, Zac Efron
A sexually and racially charged film noir from Oscar(R)-nominated director Lee Daniels (Precious), The Paperboy takes audiences deep into the backwaters of steamy 1960s South Florida, as investigative reporter Ward Jansen (Matthew McConaughey) and his partner Yardley Acheman (David Oyelowo) chase a sensational, career-making story. With the help of Ward's younger brother Jack (Zac Efron) and sultry death-row groupie Charlotte Bless (Nicole Kidman), the pair tries to prove violent swamp-dweller Hillary Van Wetter (John Cusack) was framed for the murder of a corrupt local sheriff. Based on the provocative bestselling novel by Pete Dexter (Mulholland Falls, Rush), The Paperboy peels back a sleepy small town's decades-old facade of Southern gentility to reveal a quagmire of evil as dark as a Florida bayou.
Welcome to the Punch (15)  Running time: 99 mins
Director: Eran Creevy,  Writer: Eran Creevy
Cast: James McAvoy, Mark Strong, David Morrissey, Andrea Riseborough, Peter Mullan
Ex-criminal Jacob Sternwood (Mark Strong) is forced to return to London when his son is involved in a heist gone wrong. This gives his nemesis, detective Max Lewinsky (James McAvoy), one last chance to catch the man he's always been after.
Released 22nd March:
Compliance (15)  Running time: 90 minutes
Director: Craig Zobel,  Writer: Craig Zobel
Starring: Ann Dowd, Dreama Walker, Pat Healy, Bill Camp
Inspired by a chilling true story, Compliance explores just how far one might go to obey a figure of authority. On a particularly busy day at the local ChickWich, the fast food joint's high-strung manager Sandra (Ann Dowd, Garden State) receives a phone call from a police officer saying her employee Becky (Dreama Walker, "Don't Trust the B____ in Apt. 23?, Gran Torino) has stolen money from a customer. Convinced she's only doing what's right, Sandra commences the investigation, following step-by-step instructions from the officer at the other end of the line, no matter how invasive they become.
Jack the Giant Slayer (12A)  Running time: 114 mins
Director: Bryan Singer,  Writers: Darren Lemke, Christopher McQuarrie, David Studney
Starring: Nicholas Hoult, Ewan McGregor, Stanley Tucci, Bill Nighy, Warwick Davis, Ian McShane, Eddie Marsan, Eleanor Tomlinson
Jack the Giant Slayer tells the story of an ancient war that is reignited when a young farmhand unwittingly opens a gateway between our world and a fearsome race of giants. Unleashed on the Earth for the first time in centuries, the giants strive to reclaim the land they once lost, forcing the young man, Jack, into the battle of his life to stop them. Fighting for a kingdom, its people, and the love of a brave princess, he comes face to face with the unstoppable warriors he thought only existed in legend–and gets the chance to become a legend himself.
John Dies at the End (15)  Running time: 99 minutes
Director: Don Coscarelli,  Writer: Don Coscarelli
Starring: Chase Williamson, Paul Giamatti, Rob Mayes, Clancy Brown
It's a drug that promises an out-of-body experience with each hit. On the street they call it Soy Sauce, and users drift across time and dimensions. But some who come back are no longer human. Suddenly a silent otherworldly invasion is underway, and mankind needs a hero. What it gets instead is John and David, a pair of college dropouts who can barely hold down jobs. Can these two stop the oncoming horror in time to save humanity? No. No, they can't.
Released 27th March:
G.I Joe: Retaliation (12A)  Running time: 110 mins
Director: Jon M. Chu,  Writers: Rhet Reese, Paul Wernick
Starring: Channing Tatum, Dwayne Johnson, Bruce Willis, Ray Park, Adrianne Palicki, Ray Stevenson, Walton Goggins, Rza
In this sequel, the G.I. Joes are not only fighting their mortal enemy Cobra; they are forced to contend with threats from within the government that jeopardize their very existence.
Trance (15)  Running time: 101 minutes
Director: Danny Boyle,  Writers: John Hodge, Joe Ahearne
Starring: Rosario Dawson, James McAvoy, Vincent Cassel
Fine art auctioneer Simon (McAvoy), in league with a gang led by underworld boss Franck (Cassel), plots the audacious theft of a masterpiece by Goya from a major public auction. When Simon double-crosses the gang during the robbery, Franck retaliates violently and knocks him unconscious.
In the aftermath of the heist, Simon sticks stubbornly – and perhaps shrewdly – to his claim that the violent trauma has left him with no memory of where he stashed the artwork.
Unable to coerce the painting's location from Simon, Franck and his associates reluctantly join forces with a charismatic hypnotherapist (Dawson) in a bid to get him to talk. But as they journey deeper into Simon's jumbled psyche the boundaries between reality and hypnotic suggestion begin to blur and the stakes rise faster and far more dangerously than any of the players could have anticipated.
Released 29th March:
The Host (12A)  Running time: 125 mins
Director: Andrew Niccol,  Writers: Stephenie Meyer, Andrew Niccol
Starring: Saoirse Ronan, Diane Kruger, William Hurt, Jake Abel, Max Irons, Bokeem Woodbine
The Host is a riveting story about the survival of love and the human spirit in a time of war. Our world has been invaded by an unseen enemy. Humans become hosts for these invaders, their minds taken over while their bodies remain intact. Most of humanity has succumbed.
When Melanie, one of the few remaining "wild" humans, is captured, she is certain it is her end. Wanderer, the invading "soul" who has been given Melanie's body, was warned about the challenges of living inside a human: the overwhelming emotions, the glut of senses, the too-vivid memories. But there was one difficulty Wanderer didn't expect: the former tenant of her body refusing to relinquish possession of her mind.
When outside forces make Wanderer and Melanie unwilling allies, they set off on a dangerous and uncertain search for the man they both love.