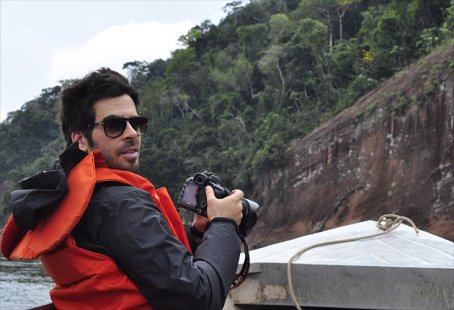 My oh my, the speed at which films are churned out these days. It was less than two months ago that we reported on how Eli Roth was heading deep into the Amazon jungle to shoot his new Cannibal horror, The Green Inferno, and now the director has announced that the film is done!
Via his Twitter account, Roth announced today that production had finished and now we all have to play the waiting game for a trailer or some images. Personally, I am very excited about this as we have not really had a good Cannibal film for years. The fact that Roth has used those classic Italian Cannibal flicks alike Cannibal Holocaust and Cannibal Holocaust 2 (also known as The Green Inferno) as the basis of his new horror is very exciting indeed.
Roth released a rather cool picture with his Twitter announcement, and you can see the image below.
The Green Inferno, directed and co-written by Eli Roth and co-written by Guillermo Amoedo, stars Lorenza Izzo ("Aftershock"), Ariel Levy("Aftershock"), Aaron Burns, Daryl Sabara ("John Carter", "Machete"), Kirby Bliss Blanton ("Project X"), Magda Apanowicz and actress/singer Sky Ferreria.
Worldview Entertainment, a leading independent motion picture production and investment company, is financing and producing the horror thriller, which is directed by Eli Roth and based on a screenplay he co-wrote with "Aftershock" co-writer Guillermo Amoedo.
Here is what Roth said of their filming location back in October:
"The location that we found is truly spectacular," he said. "It's so far up the Amazon, no one has ever shot there. The last person anywhere near there was Werner Herzog for Aguirre, the Wrath of God." The village is so remote, in fact, that Roth says locals had never seen a film before. "We said, 'Can we shoot here?' and talked to them, and our producers said 'We have to explain to them what a movie is. They've never seen a television,'" Roth recalled. "So we brought a generator and set up a television. I thought they were going to show them E.T. or The Wizard of Oz, but they showed them Cannibal Holocaust to see how much they could handle….The villagers thought it was the funniest thing they'd ever seen."
Synopsis:
The flick is inspired by Italian mondo films like Ruggero Deodato's notorious 1980 Cannibal Holocaust and Antonio Climati's 1988 Natura contro (also known as The Green Inferno and Cannibal Holocaust II). The Green Inferno follows an idealistic student and a group of naive do-gooders who are captured by cannibalistic Indios after their plane crash lands in the Peruvian jungle.
(Follow me on Twitter)