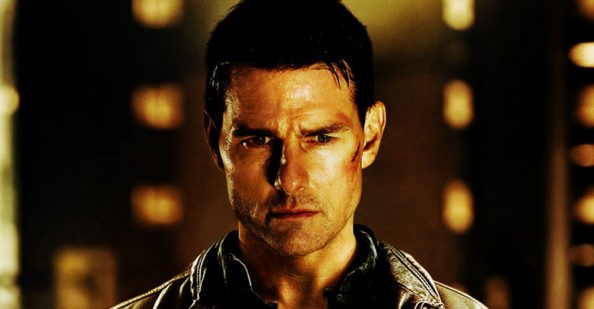 "Get Jack Reacher." The only three words the primary suspect of a series of sniper homicides writes before slipping into a coma. Cryptic? Just a little. Cue the appearance of the mysterious Jack Reacher, an ex-army cop known for being untraceable to anyone and everyone unless he wants to be found. You don't find him, he finds you. As he investigates the supposedly open and shut case of the murders, he realises that things are not quite what they seem. So, to celebrate the release of Jack Reacher, (in cinemas across the UK and Ireland from Wednesday 26th December), we have compiled a list of our top 5 renegade cops who, like Jack, come to discover that the law is not as black and white as it seems once they uncover the truth.
THE DEPARTED (2006)
Our first renegade cop, or should we say, almost cop, is Billy Costigan. Leonardo DiCaprio stars as the young police academy student who drops out when he is given an undercover police assignment before he can even graduate. Going undercover as an ex-con, Billy must infiltrate a mob syndicate headed by criminal, Frank Costello (played by Jack Nicholson). As he is drawn further and further into the realms of mob activity, Costigan discovers that there is a mole in the Boston State Police Department and the longer he remains undercover, the more danger he is in of his true identity being discovered. With a brilliant performance by DiCaprio, The Departed shows us how the lines between cop and criminal, and between good and bad, become blurred once the law is called into question. As Frank Costello would say, "When you're facing a loaded gun, what's the difference?"
THE BOURNE IDENTITY (2002)
Matt Damon stars as Jason Bourne in this little film you may have heard of! Though not technically a cop, Bourne is a trained government assassin who once served in the army (as did Jack Reacher, see what we did there?) With no memory of who he is, Bourne finds himself being hunted by members of the CIA with no knowledge of why they want him dead. Working through the haze of a life he cannot remember, Bourne must fight against the all-seeing, all-knowing CIA if he is to find out who he is, and more importantly, stay alive. A battle of wills ensues in this thrilling action-packed film between one man and a government agency trying to desperately erase any trace of his existence. Bourne needs answers and he wants them badly enough to get them. But what will he do if he doesn't like the truth once he discovers it?
TAKEN (2008)
From CIA baddies, we move onto some CIA goodies for a change! When former CIA agent Bryan Mills' teenage daughter, Kim, is kidnapped in Paris, he must move quickly to find her. Alone in a foreign country, Bryan will do what it takes, burn old bridges, and kill whoever he must if he is to ever see his daughter alive again. Those who cross Bryan Mills be warned, he will look for you, he will find you, and he will kill you. We wouldn't get in his way either!
DIE HARD (1988)
New York City Detective John McClane (played by Bruce Willis) arrives in Los Angeles to reconcile with estranged wife Holly when the company Christmas party she is attending is taken hostage. Detective John McClane is not a hero, but if he ever wants to see his wife again, he has no choice. Using his police training, he must move quickly in order to unravel the terrorist's plans to secretly steal over $600 million dollars from a vault in the basement and save his wife and the rest of the hostages, all without revealing his true identity to the gang of terrorists. Sounds simple enough!
DIRTY HARRY (1971)
Clint Eastwood stars as Police Inspector "Dirty" Harry Callahan in this classic cop thriller. Sadistic serial killer, "Scorpio", demands the city of San Francisco pay him $100,000. For every day they refuse, one more person dies at his hand. Inspector Harry Callahan is assigned the task of catching Scorpio before he can kill again. With time running out, Callahan must make a choice between serving his badge the right way, and doing what it takes to prevent a serial killer from continuing his reign of terror. So, what do you think? Is Inspector Callahan feeling lucky enough to triumph? "Well, do ya, punk?"
So head down to cinemas to see a former cop uncover more than he bargained for when he begins to investigate a seemingly simple case. Just don't get in his way because he has nothing to lose and if "you're smart that scares you." Oh, it does Mr Reacher! Jack Reacher hits UK cinemas Wednesday 26th December!